In the recent times, art and craft industry has taken a steady leap because of the change in the lifestyle and the perception of the people all across the world. It is definitely not the beginning of the art and the craft industry. You all know that it has been part of the human culture since time immune. You can go back to the Stone Age and still find artworks like the cave paintings with deeper meaning associated with them.
What has again popularized art and craft in the modern times is the social media and the widely available art and craft products and home décor items through them. Before you plunge into the details of the small businesses making it big with their art and craft products through social media marketing, let me enlighten you about the history of art and craft a bit.
The Arts and Crafts Movement: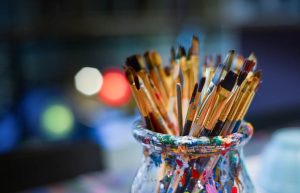 You must have heard of the Feminist and other revolutionary movements that happened in the past but there are very few who are familiar with this arts and crafts movement that started in the British Isles. It was between 1880 and 1920 that this movement in decorative and fine arts was started as a reactionary measure against decline in standards linked with machinery and factory production of artworks. Soon it spread to the other parts of the world and laid the path for the modern style in art and craft.
Why Art and Craft is Significant to the Society?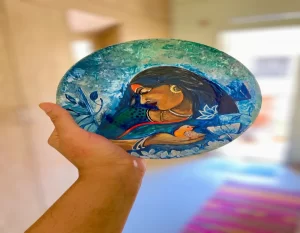 Do you think that art and craft is only for leisure and is of no interest for majority of the people? Well, hold on for a bit. Let me inform you here that the increasing popularity of arts and crafts in the modern society is due to its universal communicating powers, which is of great significance to the people of the society. Artworks and Craftworks have got the capabilities to evoke thoughts, emotions and ideas and even speak a thousand untold stories. In fact, they can boast tourism as well that contributes to the world economy.
4 Small Businesses on Instagram Making Big:
Looking for some art and craft raw materials or unique home décor art and craft items?
Instead of searching them one by one in the local supermarket, try getting them online from these small business owners Selling their art and craft products on Instagram. You can directly buy their finished home décor art and craft products for your newly painted room or get the raw materials for the DIY home décor products you are make to make. These small businesses on Instagram cater to all of your art and craft needs with special attention.
Kala-e-khaas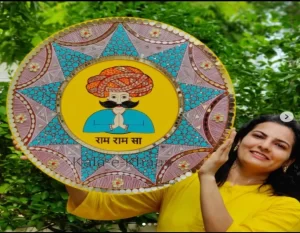 Owner- Sunita Meena
Instagram Page- https://www.instagram.com/kala_e_khaas/
Official Website- www.kalaekhaas.in
Being an Electronics Engineer from NIT Surat, Sunita Meena showed the courage to pursue her dreams to become an art guru and influencer. She chose the social media platform to display her beautiful artworks which made her gain the position of a popular digital creator. She has taken her love for art further by launching her handmade art and craft products on Instagram. Keeping the increasing demand of the buyers in mind, she has launched her website where both finished home décor art and craft products and raw materials like mdf cut outs and DIY kits are also available. Choose a beautiful wall hanging or the Raw Cut outs for the website to satisfy your need.
Bestselling Products: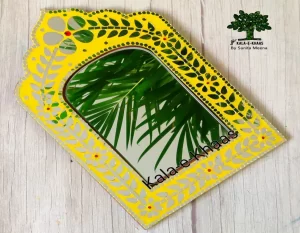 Mirror Mosaic Jharokha
Mosaic Tiles Coaster
Wall Mirror in Mirror Mosaic
Candle Holder (Finished and Raw)
Premarked MDF Cutouts
Crystalindia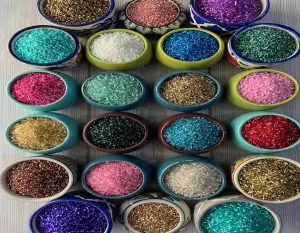 Instagram Page- https://www.instagram.com/crystalindia/
Official Website- https://crystalindia.co/
If you are looking for mirrors and beads to decorate your artwork or craftwork then this is your place. Crystal India is making it big with their mirror and beads variety and pocket friendly price. They are popular for making and selling sugar beads, sequins, mirrors and Crystal Strings that are perfect for jewelry making, home décor items and DIY Crafts. You can choose from their premium mirrors category for any kind of craft requirements. They accept bulk orders and offer occasional discounts as well.
Bestselling Products: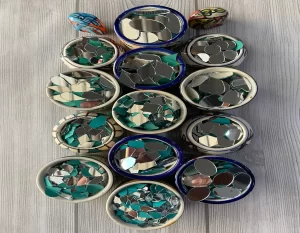 Premium Mirrors
Micro Mirrors
DIY Craft Beads
Micro Bugle Beads
Theyellowbrush.studio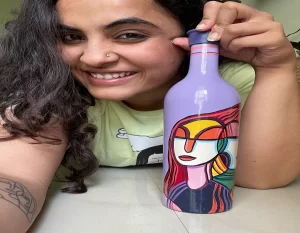 Owner- Tanvi Dua
Instagram Page- https://www.instagram.com/theyellowbrush.studio/
Official Website- https://theyellowbrush.com/
If you have a sophisticated and refined taste in art and home décor, theyellowbrushstudio is just the perfect place for you to shop. Tanvi Dua has taken her online art and craft business to a different level through her handpainted and upcycled Home Décor items. Her designs are perfect reflections of modern lifestyle and art and she also indulges in the pleasure of teaching her art style to others through workshop sessions. You will get handpainted wine glasses, wine bottles, plates, coffee mugs here to add to your aristocratic home décor. She is open for customized works as well.
Bestselling Products: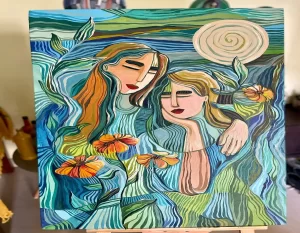 Wall Plates
Wine Glasses, Cups and Jars
Bottles and Oil Dispensers
Mudnmirrors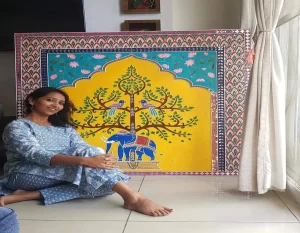 Owner- Priyanka Goyal Mittal
Instagram Page-  https://www.instagram.com/mudndmirrors/
Traditional Lippan Art is the new mantra for Home décor now. Priyanka Goyal Mittal is a Lippan artist who has used this art form to make a new name in the Indian home décor business. Although she has started with small steps, her Lippan Art Mirrors are now shipped worldwide. She caters to the customized Lippan paintings orders from any parts of the world. Be it the big wall behind your couch or a small corner, you can choose from her stock of Lippan art mirrors to fill in the void and give a traditional touch to your home.
Best Selling Products: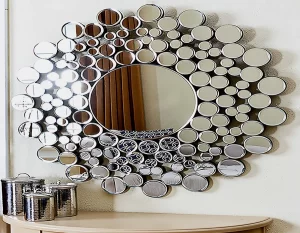 Lippan Art Mirrors
Lippan Art Paintings
Tutorial Video for DIY Home Décor Items:
Colour_wings_by_surabhi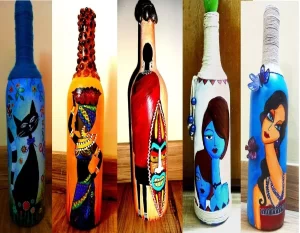 Instagram Page- https://www.instagram.com/colour_wings_by_surabhi/
Youtube Channel- www.youtube.com/c/ColourWingsbySurabhi
Artist- Surabhi Roy
Surabhi Roy is a professional artist who has taken interest in making art and craft tutorial on Youtube. Her carefully crafted artworks are easy to make and you can also try them now by watching her videos.
So, what are you waiting for?
Let not the Winter Blues engulf you so soon. Do some shopping from these online art and craft stores and start with your DIY works or Home decorations for Christmas.