Studies, homework, tuition classes, dance lessons, cricket coaching- wait, wait, wait?
Are the children always busy preparing themselves for a better future?
Now give it some time and think once.
All work and no play makes Jack a dull boy.
You must have heard about it somewhere but it is true that children needs to take time off from studies and lessons to do some fun yet enlightening activities as well to keep their spirits up and not get swayed by monotony.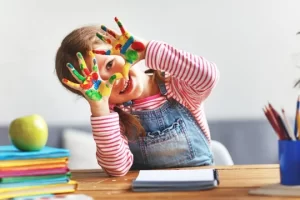 Art and Craft can be that fun activity during leisure time to will add further value to the lives of children. It is often said that art and craft helps in developing ideas about artifacts and images from various cultures and different time periods. It engages the children to think and act in a creative manner and also nurtures their imaginative capabilities.
You can be a teacher or a parent but you need to know about these creative craft ideas to keep your children involved in some fun activities. They are easy and done using simple techniques and regular use materials.
6 Easy Art and Craft Ideas:
Fork Print Tulips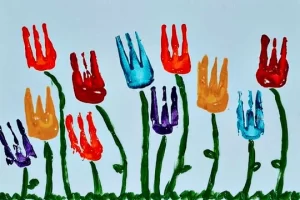 Fork Print Tulips are cute but still easy to make. Your little boy or girl will be able to make it in a jiffy with a little bit of your guidance. Take some water colours, a white paper, fork and a brush. Dip the back side of fork on any beautiful color and then press the fork on the paper. Repeat this to make many flowers and then with the help of the brush paint the leaves and the stems green. Let it dry. Now isn't it beautiful?
Popsicle Stick Rainbow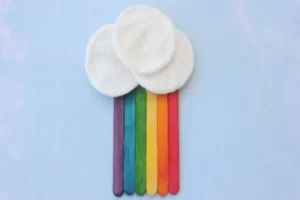 Crafting remains incomplete without some gluing works, right? It is time that you test your children on their gluing skills. So, gather a craft paper, some popsicle sticks, sketch pens and some round cotton pads. Don't forget the glue. Help your children to color the popsicle sticks according to the colors of the rainbow with the sketch pens. Glue them side by side on the craft paper and also glue the cotton pads on the top of the popsicle sticks to look like the clouds. Here comes your popsicle sticks rainbow. This will help the children learn about the colors of the rainbow also.
Rock/ Pebble Painting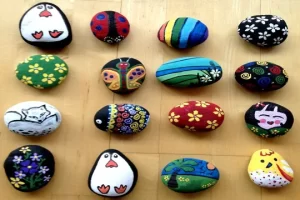 This is very much trending these days with many artists selling pebble art online. Why do you need to buy it when you can make it yourself. Even better if you try making it with your children. Let me collect different sized pebbles from the river bed and the paint them using variety of colors and designs. They are not only good to look at but can also be used as paperweights.
Mini Garden Pots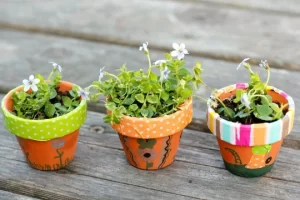 Are you a tea lover? Then you must have earthen tea cups at home. No problem if you do it. They are available at every local tea shops round the corner. Collect few and give it to your children. Let me color the earthen tea cups with the colors of their choice and make quirky designs on them. These small earthen tea cups can be used to plant mini flower plants. Children will not only enjoy doing the art but will also learn how to grow new plants.
Jar Lids Wind Chimes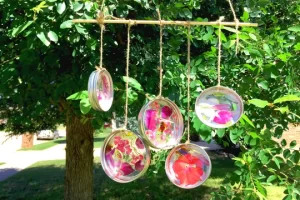 This is a bit tricky one and your guidance will be needed but trust me, you will be mesmerized to see the final outcome. Take old jar lids and cut out the center portion of those. Make sure that you are doing this part and not your children. Gather some wax strips and let the children draw colorful and funny symbols on them. Cut them to fit in the jar lids. Make holes on one side of the jar lids and attached a strong to each of them. Connect them to a bangle or wooden strip on the other end and here is your wind chime ready.
Bottle Cap Lady Bugs
You must have spare soft drink bottles at home. Come on, we all have such unnecessary things at home. Collect their caps and help your children to paint the dots and the eyes on them to make them look like small lady bugs. Don't you think they are cute?
People are more concerned about the studies of their children in the modern times. I agree that academic record needs to be good but at the same time other fascinations need to be nourished as well. Try out these art and craft ideas with your children and let then enjoy and water their creative side as well.