Are you interested in the culture and traditions of different regions?
Are you a connoisseur of art, too, like me?
Then Handicrafts can be the perfect solution to your search for art objects representing various cultures and traditions. When thinking about a creative country, come to India and explore the various handicraft goods available to satiate your senses. India is considered to be a land of diversity, and the variety can be noted in handicraft goods as well.
The Handicraft artists of India not only create these products to showcase their creativity but also to contribute significantly to the country's economy. The craftsmen from the rural areas of India indulge in the handicrafts industry to preserve their cultural heritages and also to generate substantial foreign exchange for the country.
Mostly, the skills and knowledge required to create such artifacts are passed on from one generation to another and the tradition continues. The majority of the handicraft goods from India can be used for livelihood, decoration purposes, religious programs, and aesthetic value.
Before just plunging into the ride to explore handicrafts in India, you need to know the destinations you will be heading too and what to look for in those places. So, here is a list for you to make your journey easier.
Andhra Pradesh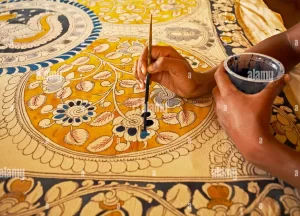 Andhra Pradesh is the place to start with when searching for the best destinations for handicrafts in India. Kalamkari art is one of the popular art styles this place is famous for. The meaning of the word "Kalamkari" is "pen work" which is done with the help of a sharp-pointed pierced bamboo that regulates the flow of color on the fabric. Mostly, it is either hand-painted or block-printed on cotton textile or paintings.
With the development of modern types of machinery, this technique have died out but in some parts of Andhra Pradesh artists still do it with hands. This art form flourished back in the 14th century but people came to know more about it during the Muslim rule. Another notable handicraft is from Andhra Pradesh is Banjara Needlecraft. It is a type of Needle craft technique done on tapestries. With the help of simple needle, fabrics and embroidery threads, colorful embroidery and mirror works are done by the artisans of Telengana that can be used as home decorations.
Where to Buy?
Coromandel kalamkari ( Kalamkari Museum ) by Pitchuka Srinivas, Pedana, Andhra Pradesh
Rajasthan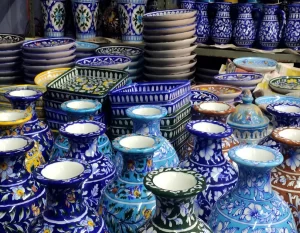 Visiting Rajasthan is a must if you are keen on purchasing some handicraft goods that will turn many heads. Blue pottery is a unique pottery style popularized in the Rajasthan areas that originally was found in Kashmir. It was back in the 19th century that Maharaja Sawai Jai Singh II brought it to Jaipur. It is said that he was so impressed with the art that he ordered all art schools to teach the skill. Now, they are available in every size and shapes starting from trays vases and dinnerware. Blue pottery is not only the depiction of their artistry but also enhances the beauty of the place it is kept or used.
Where to Buy?
Kripal Kumbh, Jaipur, Rajasthan
Bihar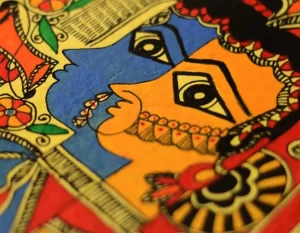 Bihar has a rich history to talk about, which can be noted in their handicraft goods. One of the most popular handicrafts item found here is the Madhubani painting. Although it originated in the Madhuban district of Bihar, it is now very much in stock in the Mithila region of India and also in Nepal. During the time of Ramayana, these kinds of paintings were done of various mediums like canvas, cloth and hand-made paper. Mostly, Hindu mythological figures and themes are seen in Madhubani paintings highlighting the Mythological cultures of the Hindus.
Where to Buy?
New Sonali Handlooms and Handicrafts, Patna, Bihar
Assam
Moving to the North-east side of the Indian map, Assam is known for Terracotta Works done using mud, clay or Earth. The name came from the blend of one Latin and one Italian word. "Terra" in Latin means "earth" or "soil" and "cotta" in Italian means "statue." The clay figurines that are created reflect the ancient culture of the region. It is also said that earlier the Assamese craftsmen also made clay figures representing religious symbols. Terracotta pots, vases, toys, dolls and jewelries all are equally popular in the region.
Where to Buy?
Bamboo Bazar, Guwahati, Assam
Kerala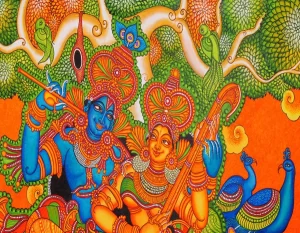 When you know that you have refined taste in aesthetics, you should definitely visit Kerala and buy some of the Mural paintings available there. Kerala Mural Art is not only unique but also the bearer of cultural symbols from the 15th century till the 19th century. Kerala Mural paintings are believed to be the epitome of fine art of skill and creative excellence. Kerala mural paintings are inspired by the Kerala Mural art found at the Shiva Temple in Ettumanoor, the Ramayana murals of Mattancherry Palace, and Vadakkumnatha Kshetram.
Where to Buy?
Shilpakala Handicrafts, Ernakulum, Kerala
This world is beautiful, but humans have also created and contributed to this beauty. Not just explore new places, but you can now keep a piece of every culture at home to mark the diversity. These handicraft items from India will make the blend of cultures possible and real. Visit the places now to collect those excellent handicraft items that will make your house look elegant and supreme.