"Jingle bells Jingle Bells…"
Wait wait wait!
It is not yet Christmas time.
So what?
Planning for a happening Christmas party at home this year?
Decorate your house on Christmas in a different way this year with DIY Decorating Ideas.
If you are still worrying about decoration and time, then do not frown at all.
There is enough time left for you to get on with your DIY decorating ideas and get your house ready before Christmas this year.
Christmas Time:
Every year on the 25th of December, Christmas is celebrated all over the world as an auspicious festival because of the birth of Jesus Christ. Over the years, it has become a cultural celebration for all and it is no longer limited to just a religious festival. On this day, Christmas trees are decorated, gifts exchanged and social gatherings are done as part of the celebrations. Little children wait for their Santa Claus to come and leave gifts for them in their wish socks. Overall, it is a happy occasion where Christmas carols are sung and people make merry all over the world.
Tips to Decorate your Home for Christmas: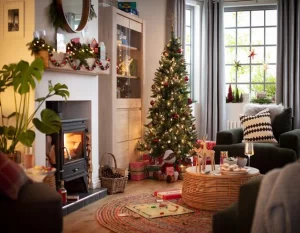 Give your Room a Touch of Christmas- It is with the Christmas tree that your room and your entire house will get the Christmas Vibe. It will give you the feel that the time has come to bake cakes and wait for Santa Claus' gifts. Place a big or a small Christmas tree as per the size of your room to get on with the Christmas spirit.
Minimalism is Better- Is your room too small to fit in a big Christmas tree or other Christmas decorations? There is absolutely no need to worry because you can now decorate your room with a mini Christmas tree and keep the other decorations to the minimum. When it is Christmas, even minimalistic decoration can make you happy and give you that festive vibe. If you are still in doubt then go for Classic Christmas tones for your small room décor. It works.
Use Pop of Colors- Since it is Christmas, your rooms needs a pop of colors here and there too. So just get some colorful cushion and pillow covers and rugs to replace the regular ones and your room is ready to soak in the perfect theme for the Christmas party.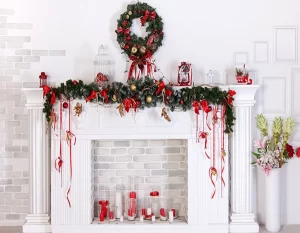 Decorate your Dining Area in White and Gold- When it is Christmas, every corner of your room matters. So, let us get on to the dining area now. It is important to wrap it in festivity too as the food will be served here during the Christmas party that you are planning. Use a candle as a centerpiece and some metallics in snowflake silver. Some starlight gold pieces will enhance the beauty of your white table cloth. Now the dining table is all dressed up for the Christmas meal.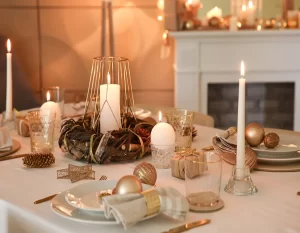 Add a cheerful décor to your Bedroom- Christmas brings the coolest and coziest weather with it and so, it is hard to get yourself out of those blankets. If you are a lazy sloth like me, not to worry at all. Brighten up your bedroom this year and enjoy Christmas in your comfort zone. Use some colorful cushions and blanket for a change. Also, put some gold and white candles and stars on your bedside table. Small dried garlands on the window stack will make you feel Christmas is here.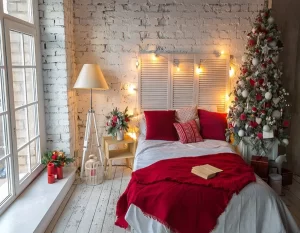 Spread Sparkling Lights all over the House- Sparkling lights are must for Christmas decorations. Busy as much as you can and of different colors and shapes to compliment your home décor with sparkling cheerfulness. Use it everywhere and let your sparkle with the twinkling of the lights this Christmas season.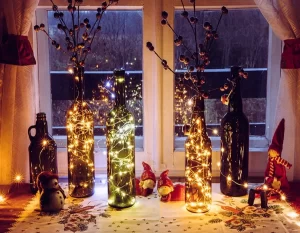 Use Simple and Handmade decorations- Christmas Decorations Ideas are many and they are easy to make as well. Instead of buying decoration materials, this year try decking up your house with simple and handmade decorations. They will not only look good but will also give you the pleasure of creation. If you are interested then please check out DIY ideas below.
DIY Decorating Ideas: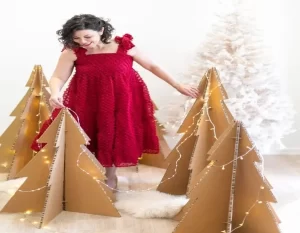 Cardboard Christmas Tree– Use many old cartons or card board boxes to make Christmas trees. Cut them out in the shape of a Christmas tree, color them or decorate them with hangings and lights and keep it in one corner of your room or the backyard.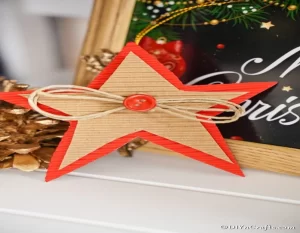 Cardboard Stars– Cut out big and small stars from old cardboards and paint them with designs to make them look cool.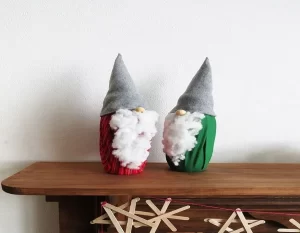 Christmas Gnomes– Use some old jars and cloth them with colorful fabric. Use cardboard to for a cap over the head area and place it. Draw eyes on them and your Christmas Gnomes are ready.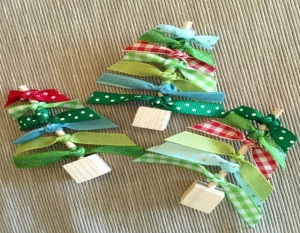 Ribbon Christmas Tree– Take a stick and tie different colored ribbon on it in that shape of Christmas trees.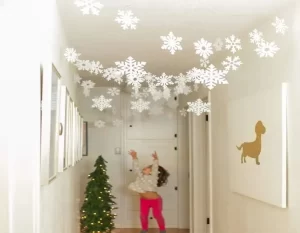 Hanging Snowflakes– Use some white fabrics or cardboard cut outs to make different sized snowflakes. Color them white and hang them over the tree and from the ceiling.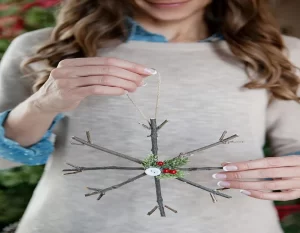 Rustic Twig Ornaments– Take same sized twigs and tie them up in the middle to form a star like arrangement. Use these rustic twig ornaments to decorate the Christmas tree or put it on the door knob. They will look equally good.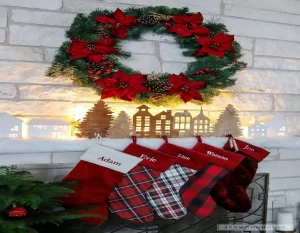 Stockings Hanger– Use a cardboard stick and some colors and sparkles to create a hanger for all the stockings to be hung on Christmas by the children of the house.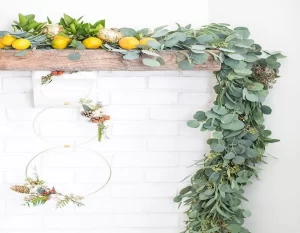 Eucalyptus Garland– Celebrating Christmas in a rustic holiday setting? Recreate a garland with Eucalyptus leaves and your home will be ready to look pretty.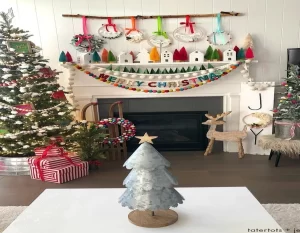 Mantel Garland with Cotton Balls– Colorful cotton balls are easily available in the market or you can even get it in your make up box. Stick them together in the form of a garland and hang them from your mantel to look good.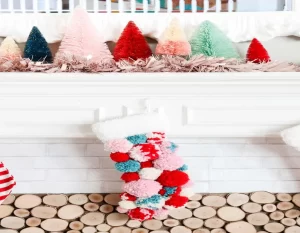 Pom-Pom Stocking– Make lots of colorful pom-poms from wool and then glue them together on an old sock in such a way that the original sock gets hidden. Your unique pom-pom stocking is ready.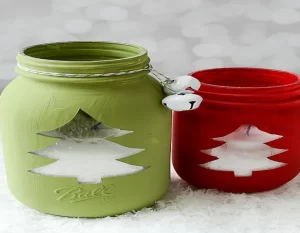 Mason Jar Votives- Find out some empty mason jars and paint them the way you like. Then you can use them as painted votives to decorate your dining or coffee table.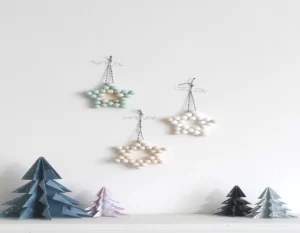 Wooden Bead Stars– Color small wooden beads and glue them up in the shape of stars. Now you can hang them on the wall or on the tree to give that Scandinavian look.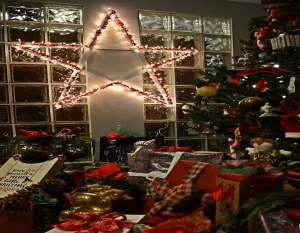 Lighted Christmas Star– Use wooden sticks to make a star and wrap it up with red sparkling garland and twinkling lights. Hang it on the wall or the windows or just above the main door, it will give your house the Christmas spirit.
Double the fun this year with DIY decorative items and gifts because "Santa Claus is coming to town riding in a sleigh…"