Embarking on a solo journey is a unique and exhilarating way to experience the rich tapestry of India.
From the towering peaks of the Himalayas to the serene backwaters of Kerala, this diverse nation offers a plethora of solo travel destinations that promise adventure, culture, and self-discovery.
So, let's find out some amazing places for your next solo trip destination. 
Leh-Ladakh, Jammu and Kashmir
Leh is already in the bucket list of many people. Nestled amidst the mighty Himalayas, Leh-Ladakh is a paradise for solo travel destination, seeking solitude and breathtaking vistas. The rugged terrain and surreal landscapes create an otherworldly experience that is ideal for introspection and self-discovery.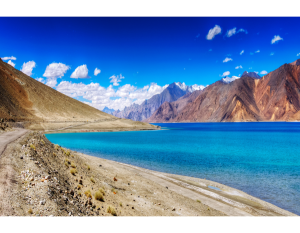 As a solo traveler, you can explore ancient monasteries, interact with warm local communities, and challenge yourself with high-altitude treks, all while soaking in the awe-inspiring beauty of the region. With its unmatched tranquility and ethereal charm, Leh-Ladakh offers a sanctuary for people who are seeking solace and adventure in equal measure.
How to Reach: Accessible by air from major Indian cities, the Leh Airport serves as the gateway to this enchanting land.
Best Time to Visit: The best time to visit is during the summer months of May to September, when the weather is pleasant and roads are accessible.
What to Do: Explore monasteries like Thiksey and Hemis, marvel at the Pangong Lake's changing hues, and conquer the high-altitude passes for a true adrenaline rush.
Varanasi, Uttar Pradesh
Varanasi, the spiritual heart of India, is a perfect place for solo travel destination. The city's labyrinthine alleys, bustling markets, and sacred ghats offer a captivating blend of chaos and serenity, making it an ideal destination for soul-searching and cultural immersion.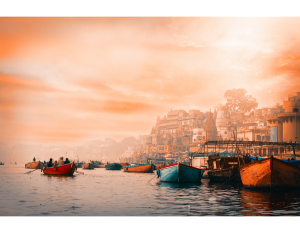 As you witness the time-honored rituals along the Ganges and engage with enlightened spiritual seekers, Varanasi unveils a unique spiritual journey that resonates with your individual quest for meaning. Exploring Varanasi alone provides an opportunity to connect with your inner self in an environment steeped in tradition and mysticism.
How to Reach: Reaching Varanasi is easy via its domestic airport or the well-connected railway network.
Best Time to Visit: Plan your visit between October and March to escape the scorching heat.
What to Do: Witness the captivating Ganga Aarti as the sun rises over the Ganges, immerse yourself in the soul-stirring rituals, and explore the city's ghats.
Hampi, Karnataka
For history enthusiasts and solo travelers alike, Hampi is a treasure of ancient wonders. The ruins of the once-thriving Vijayanagara Empire paint a vivid picture of the past, igniting your imagination and inviting you to step back in time.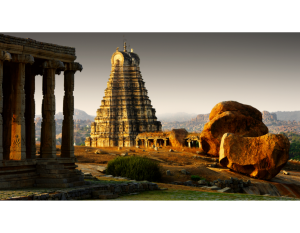 As you wander through the intricate carvings, climb rocky hills for panoramic views, and engage with the friendly locals, you'll find solace in the echoes of history that permeate every corner. Hampi's serene ambiance and the freedom to explore at your own pace make it an ideal destination for solo adventurers seeking a personal connection with the past.
How to Reach: Hospet Junction is the nearest railway station, and the nearest airport is Hubli Airport.
Best Time to Visit: The months of October to February provide the most favorable weather for exploration.
What to Do: Marvel at the impressive ruins of the Vijayanagara Empire, roam through intricate stone carvings, and bask in the glorious sunset at the Hemakuta Hill.
 Rishikesh, Uttarakhand
Tucked away in the foothills of the Himalayas, Rishikesh is a heaven for solo travelers seeking spiritual rejuvenation and thrilling escapades. The town's spiritual energy is palpable as you practice yoga by the Ganges, meditate in ashrams, and engage in meaningful conversations with like-minded seekers.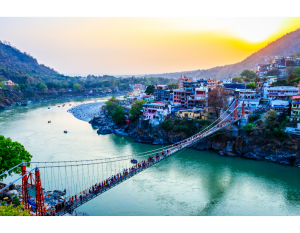 For those seeking an adrenaline rush, the gushing rapids of the Ganges provide a thrilling backdrop for white-water rafting. Whether you're immersing yourself in the town's spiritual offerings or indulging in heart-pounding adventures, Rishikesh's harmonious blend of tranquility and excitement is tailor-made for the solo traveler's quest for balance and self-discovery.
How to Reach: The Jolly Grant Airport is the nearest air hub, while Rishikesh Railway Station caters to train travel.
Best Time to Visit: Visit between September and April to avoid the monsoon season.
What to Do: Engage in yoga and meditation by the Ganges, indulge in river rafting, and seek blessings at revered ashrams.
 Munnar, Kerala
Nestled amid the enchanting Western Ghats, Munnar stands as a perfect place for solo travel destination. Its breathtaking scenic beauty, expansive tea plantations, and mist-kissed hills orchestrate a tranquil symphony, inviting introspection and rejuvenation.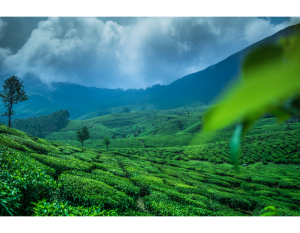 The gentle ambiance, punctuated by the aroma of tea leaves and the whisper of cool breeze, fosters an ideal environment for solo explorers to unwind, reflect, and find solace amidst nature's grandeur.
How to Reach:  Cochin International Airport is the nearest airport, Ernakulam Junction is the closest major railway station to Munnar, and it is also well-connected roadways from major cities.
Best Time to Visit: The best time to explore the tranquil beauty of Munnar is between October and March.
What to Do: Explore lush tea gardens, trek to Anamudi Peak, and immerse in serene yoga sessions, offering a perfect blend of natural beauty and tranquil activities for a rejuvenating solo escape.
India's diverse landscapes and cultural tapestry offer a plethora of solo travel destinations that promise self-discovery, adventure, and rejuvenation. These top five solo travel destinations in India are bound to leave an indelible mark on your journey of self-discovery.
So pack your bags, embark on a solo sojourn, and let the enchantment of India unfold before your eyes!
I you want to learn about most important travel essential then, check out this blog, "Which 10 things to carry with you on your Road trip to make it Better?"