Planning an international trip and getting all set to travel to your dream destination in Europe, where you can explore exotic beauty?
About to book your visa appointment trip and pack your bags?
Think again.
---
Why cross the border and spend so much when you can get the same vibe and more at a much lesser rate in your own country?
On this Independence Day, come, let's get a little closer to India and soak in the exotic beauties it has to offer.
India has so much to offer travellers looking for adventures, memories, or a break.
From the lush green forests and breathtakingly beautiful mountains to pristine beaches and deserts, Incredible India has something for everyone.
So, before all the hassles of getting a visa gets you all worked up, and you spend thousands of rupees attempting to experience the beauties far west, explore the Indian beauty with me.
Here are five places in India that can beat any foreign holiday destination fair and square:
Munnar, Kerala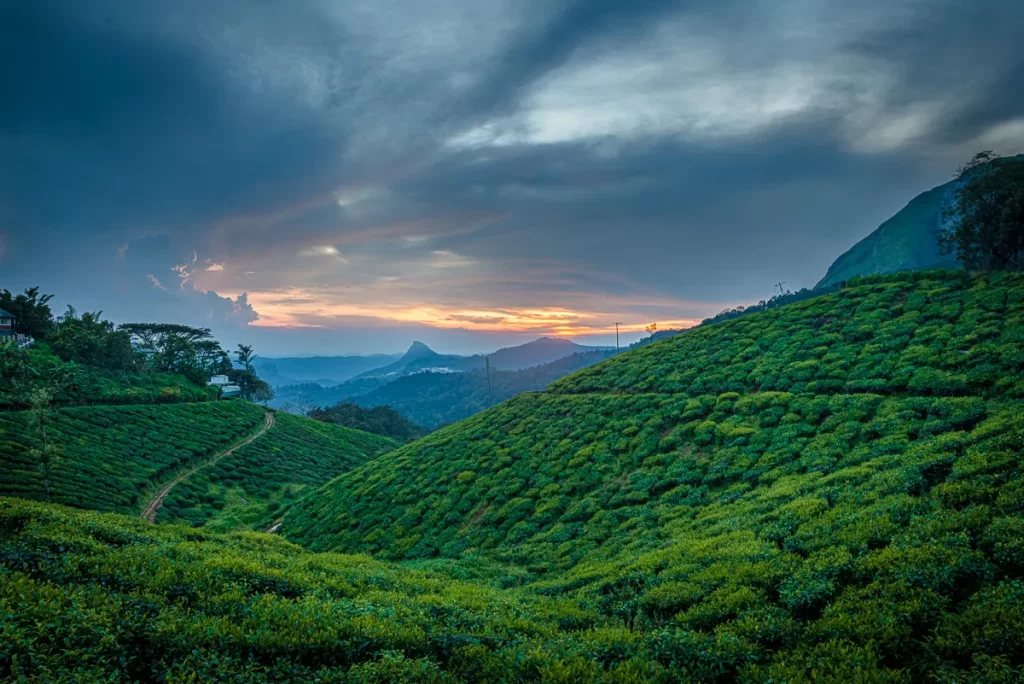 Tea Gardens (Photo Point)
Whether the mystic hills covered with mesmerising greenery, abundant wildlife, or pleasant weather, Munnar is a treat for both wandering souls and tea lovers! Munnar offers endless tea plantations and beautiful waterfalls, which can beat foreign locations any day. It gets even better during the monsoons and offers several activities at the adventure parks, along with soothing your eyes and relishing your thirst for some peace and tranquillity.
When to visit
October- May
Travel options
Book a cab to Munnar from the nearest airport at Cochin/ Kochi (110 km approx.) or the nearest railway station at Aluva (120 km approx.)
Things to do
Visit the waterfalls at Periyakanal, Chinnakanal, Attukal Falls

Visit the tea gardens

Boating at the Matupetty Dam and Echo Point

Photography at Photo Point

Endless spotting of wildlife at different intersections

Jeep Safari (can be booked through locals)
Click here to know more about our Incredible India through Munnar.
Ladakh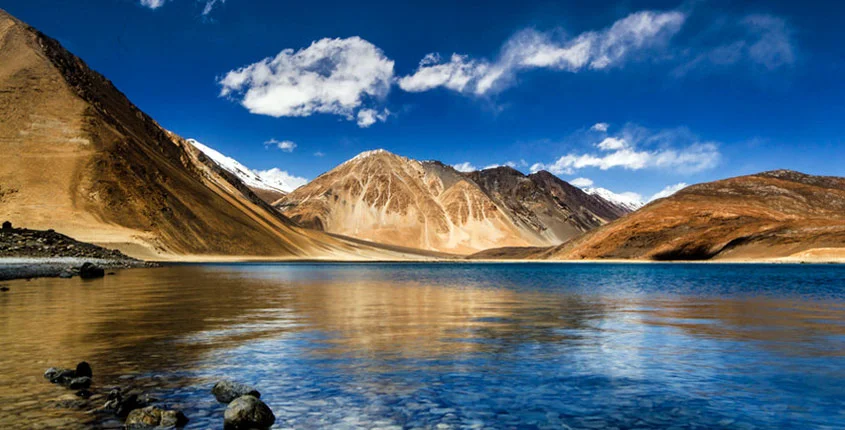 Pangong Lake
The clear skies filled with stars, the crystal clear lakes, the scenic mountains covered in snow, and the winding roads all create a wonderful memory called Ladakh. It beats Europe and Australia any day and is a treat to both the eyes and soul of the traveller seeking adventure or star gazing. You can choose from many activities like trekking, calming yourselves at the monasteries, or kayaking. Every spot in Ladakh is a photography dream, so while your gallery will be flooded with endless pictures, you are guaranteed a satisfied soul post a trip to the picturesque landscapes.
When to visit
April- July
Travel options
Consider taking a flight to Delhi and then a flight to Leh as an ideal option. Once in Leh, you can book a cab or hire a taxi to Ladakh or other destinations you choose to explore.
Things to do
Soak in the breath-taking view at Pagong Lake, Nubra Valley, Tso Morir, Magnetic Hill, Drang Drung Glacier, and Pangong Tso

Visit the highest café at Khardungla Pass

Trekking at Chadar Trek

Kayaking

River rafting

Visiting monasteries

Camping in the open (Pangong Retreat Camp is the most famous one)
Khajjiar, Himachal Pradesh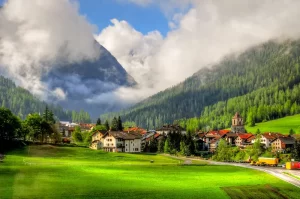 Khajjiar Lake Area
Who says only the Europeans can boast of Switzerland? Not only do we have snow-clad mountains and views of rolling grassland as pretty as a picture, but also dense greenery and a fantastic tourism experience to offer. Unlike the overcrowded Manali or Shimla, Khajjiar is a paradise spread across vast lustrous pastures. The pretty lakes, the meadows, the grazing cattle, and the picturesque high deodars are sure to remind us of dreams come true.
When to visit
March-May (ideal) and October and November
Travel options
Take a flight to Gaggal airport (nearest) from Chandigarh or Delhi and book a cab or taxi to Khajjiar, approximately 118 km away. Alternatively, you can also take a train to Pathankot from Delhi.
Things to do
Visit the Kalatop Wildlife Sanctuary if you wish to hike or catch a glimpse of the wilderness

Visit the Khajjiar Lake

Visit the Kailash Village (if you are looking forward to spending some quiet time alone and enjoying the local vibes)

Dhauladar Range and Daikun Peak for catching the idyllic views of the mountains
Click here to know more about our Incredible India through Khajjiar.
Jaisalmer, Rajasthan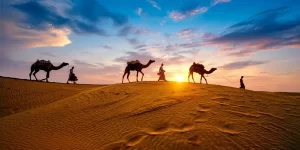 Sand Dunes of Jaisalmer
Want to experience the jeep safari? Wish to soak in the Bedouin vibes and soak in the beauties of the desert? Why book expensive trips to Dubai when you can enjoy much more with the Thar experience? From camping in tents and ticking off the safari adventures to experiencing the Rajput feels and soaking in the rich cultural heritage, Jaisalmer has lovely memories to offer you.
When to visit
October – March
Travel options
Reach Jodhpur by flight (from all major cities) or train (from all major cities) and take the road till Jaisalmer (272 km).
Things to do
Visit the Jaisalmer Fort and the city to soak in the Rajasthan richness

Dune bashing

Desert safari

Camel safari

Parasailing at Kanoi

Camping
Lakshadweep Island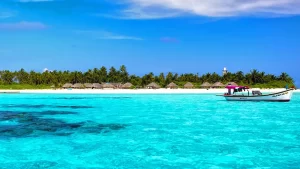 Kavaratti Islands
Someone has rightly said the Lakshadweep is India's very own Maldives. From the pristine white beaches to the tranquil waves and abundant greenery to a cuisine that makes you crave more, visit this seldom-explored beauty tucked away in the Arabian Sea. This tropical archipelago, with its scenic atolls, clear blue skies and water, coral reefs, and friendly locals, will not only make you forget the Maldives but will also be easy on the pockets. Without hurting the pocket and offering an array of exotic beauty, this little island will give you an experience of a lifetime.
When to visit
 All year round (though October – May is considered ideal)
Travel options
Kochi is your point of contact for reaching Lakshadweep Island, either by flight (Agatti) or ship. Boats are available to Kavaratti and Kadmat Islands from Agatti.
Things to do
Snorkelling (Kavaratti)

Canoeing (Minicoy)

Scuba diving (Kalpeni)

Visit the Marine Museum

Fishing (Kadmat)
---
So, what are you waiting for? Pack your bags and get ready to take off to the destinations closer home this Independence Day long weekend.
Wondering how to pack the best for your first trip to the mountains? You can check out this blog to learn about an easy packing guide for your first hill station trip.
May we all have a pride-filled Independence Day!