There are numerous ways through which the heart breaks and the mind loses itself in misery, but none is agonizing than the pain of watching others enjoy their vacations when you cannot even take a 1-day break!
Yes, yes, to some of you, I might sound dramatic.
But to many, I am totally relatable, and here goes a big hug to you. Let's get into the nagging mode.
Everyone deserves a break, and every person deserves to go on their dream vacation.
For reasons beyond control, we are unable to at the moment.
However, until then, let us at least take a short break before we lose it all and fall off the edge into the infinite loop of nagging and misery.
We are all engulfed by the busy pace of life, and with every ticking of the clock, we are constantly reminded of the endless deadlines, pending tasks, and demanding clients. There is so much stress and numerous responsibilities hanging like a heavy burden on our shoulders.
Life seems unfair, and we cannot forsake our responsibilities, but we surely can take off for the weekend and gift ourselves with little breaks for all the heavyweights we have been carrying around for so long.
Let us all pledge to take care of ourselves a little more and reward ourselves now and then to keep the heart happy, the soul at peace, and the body refreshed from time to time.
So, as a first step, here is a list of quick getaways from Kolkata. All you need to do is just select a place, pack your essentials, and get away!
Disclaimer: These are places that are quick to reach and are ideal for 1-day trips
---
Seaside getaways
Mandarmani (East Midnapore)
For all those souls yearning for a touch of the sea breeze and waiting to restock on their dose of Vitamin Sea, Mandarmani is the answer to your call. Away from the crowds of the city life and its noisy neighbour Digha, Mandarmani has its beaches and scenic to offer the tired eyes craving some peace and leisure.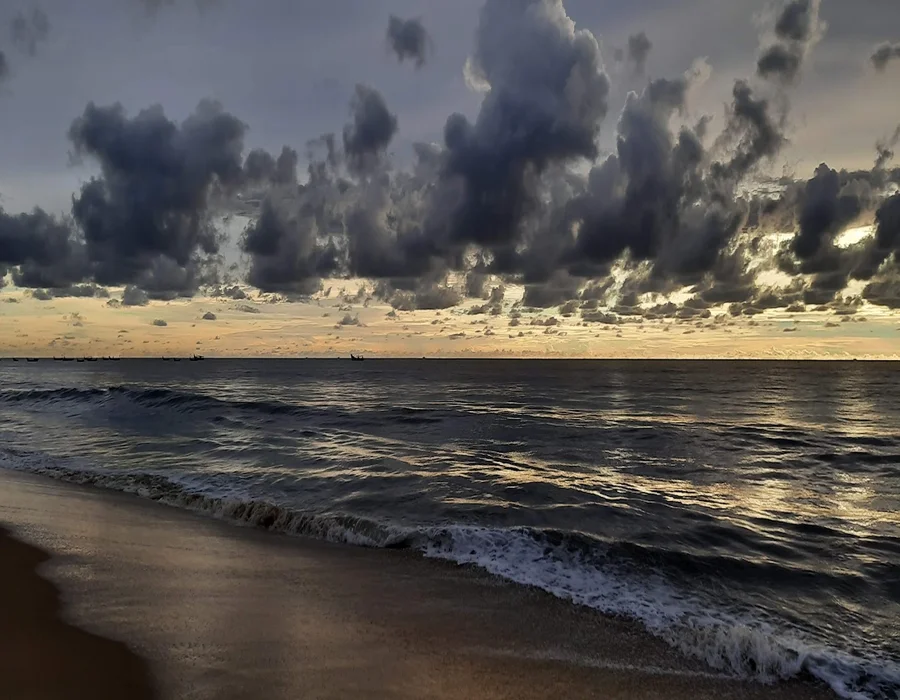 Best time: All around the year
How to reach
By train: Reach Digha from Howrah and hire a cab to reach Mandarmani beach. As the beach is almost a kilometre away, taking a bus from Digha to Mandarmani will not be very useful.
By road: At a distance of 170 Km, Mandarmani can be reached by car via the NH16 and NH116B. It takes almost 5 hours to reach. You can take a halt at Kolaghat's Sher-e-Punjab for a sumptuous meal break.
Activities to do
Water sports like paragliding

Boat rides

Sea bathing or relaxing

Bonfires (winter-time)

Beach games like volleyball, throwball
Junput (East Midnapore)
Yet to be fully explored and crowded by the people, Junput is an offbeat beach destination offering tranquillity and relaxation. Surrounded by tall green palm trees and endless stretches of beach, the destination is ideal for long beach walks and fishing. If you are someone who loves their quiet and is bored of Digha/ Mandarmani, then Junput will be a memorable getaway.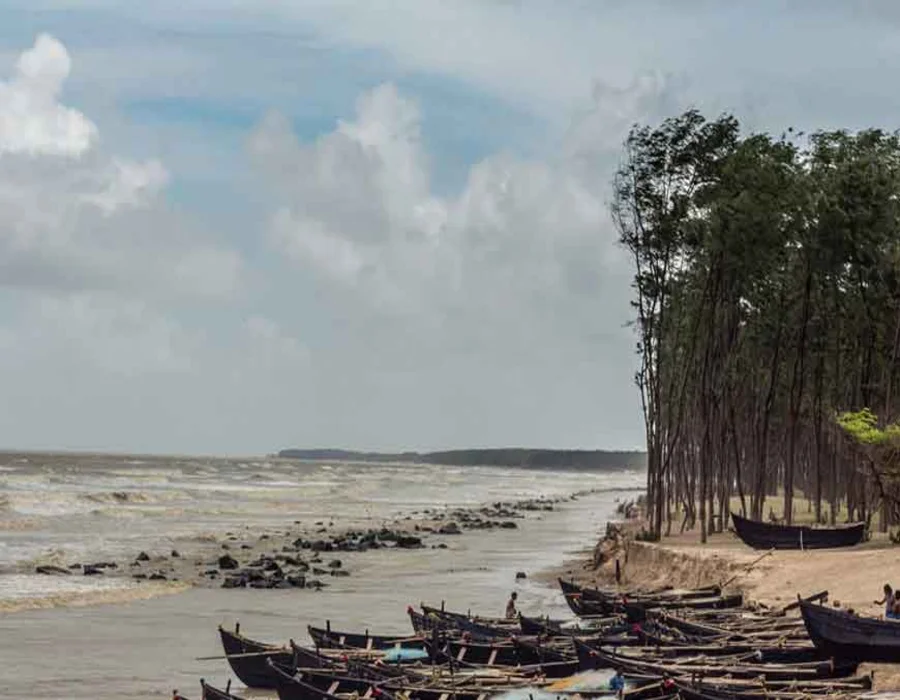 Best time: All around the year
How to reach
By train: Reach Contai from Howrah and take a bus or hire a cab to Junput, about 9km away.
By road: A hassle-free way is to book a car or drive your car, covering the 160 km distance from Kolkata via the NH16 and NH116B.
Activities to do
Watching sunset and sunrise

Fishing

Visit the Dariapur Lighthouse (11 km away)

Visit Jagannath Dev Temple (41 km away)
---
Peaceful getaways
Monchasha (Paushi, East Midnapore)
Tired of the busy city life? Bored of the honking of the cars and skyscrapers? Exhausted by the same routine and hectic schedule? Tucked away inside a small and unknown village, Paushi, in Mednipur, this ecotourism offers the vibes of both sustainable rural tourism and scenic beauty, wrapped with love, hospitality, and peace. The bamboo cottages, home-like meals, and rustic rural beauty at Monchasha will ensure your 1-day or 2-day break is a soul-cleansing experience.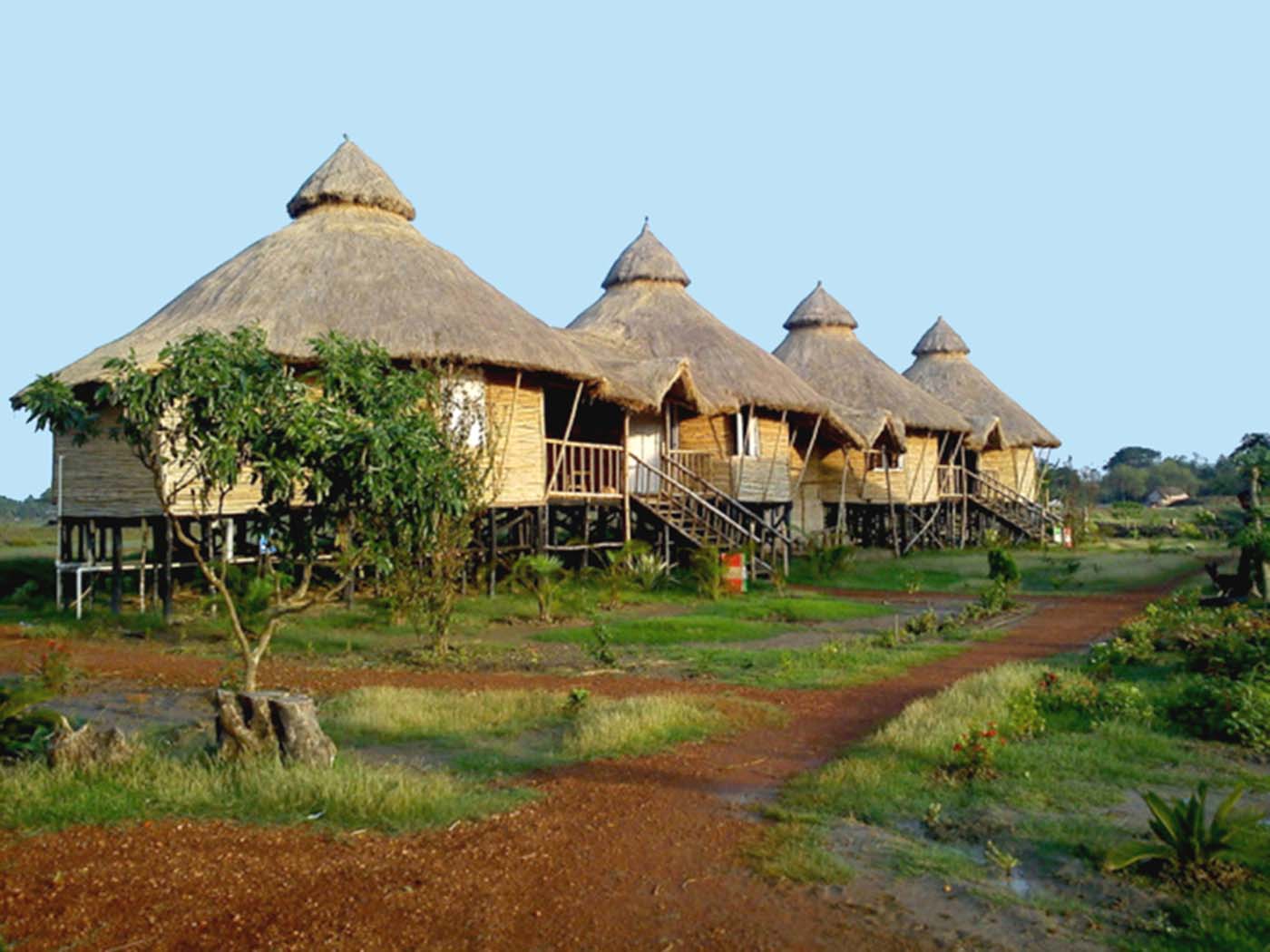 Best time: All around the year
How to reach
The ideal way to reach Monchasha is via road. You need to take the Vidyasagar Setu (2nd Hooghly Bridge and reach Monchasha via Kolaghat-Henria-Kalinagar.
For a detailed guide on how to reach Monchasha, click here
Activities to do
Visit the local villages and enjoy rural activities

Picnics

Angling (practice and learn about fishing)

Local folk culture

Buy handicrafts

Pottery

Visit the rural museum
Click here to check out more.
Garpanchokot (Purulia)
Against the backdrop of the Panchokot Hills, surrounded by lush green trees and a calming essence, Garpanchokot is the perfect weekend excuse to escape the maddening rush of city life. There are multiple resorts to choose from, and both Garhpanchkot Eco Tourism Resort and Garpanchokot Tent House Resort (Nomadic Weekends) provide a wonderful experience of comfort and leisure. Leave your accommodation and fooding worries to them, and take time to drench in the scenic beauty and enjoy the blissful weather and eye-soothing greenery.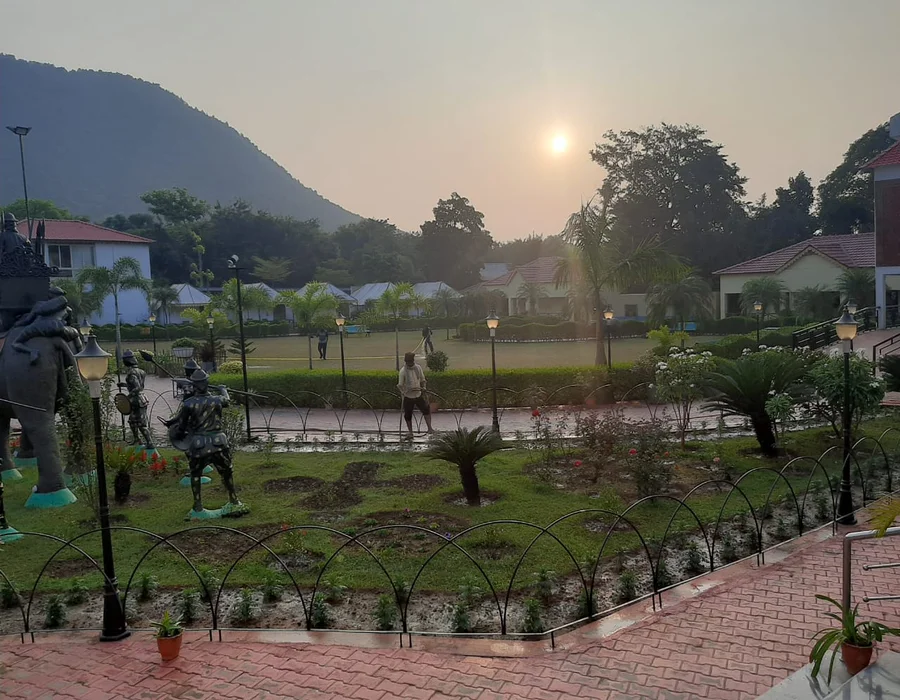 Best time: Monsoon and Winter (You can visit all around the year, though)
How to reach
By train: Reach Asansol from Howrah/ Sealdah and then hire a cab to the resort you chose to stay at.
By road: Book a cab or drive yourself the 245 km stretch via the NH19, approximately taking 5 hours to reach.
Activities to do
Visit the nearby Garh (fort) ruins

Visit the Joychandi Pahar (hills)

Visit the Panchet Dam

Bonfire (during winters)

Forest walks

Picnic
---
Offbeat getaways
Gangani (West Midnapore)
Did you know about our very own Grand Canyon? Surprised? I, too, was. But we do have a stunning beauty of a gorge located near the quiet town of Garbeta, and sure it is beautiful. At a depth of 70 ft, this gorge is situated beside the Silabati River and is a red soil miraculous structure that reflects the naturally formed canyon, caves, and other geological formations. The unwinding staircase leading down towards the river from the canyon and the surrounding beauty is a testimony to the years of erosion that has led to the splendid formations.
Important note: The area is slippery and has deep curves, so please be careful while hiking/ walking through the region. 
Important note: Don't forget to carry a cap/ umbrella and loads of water.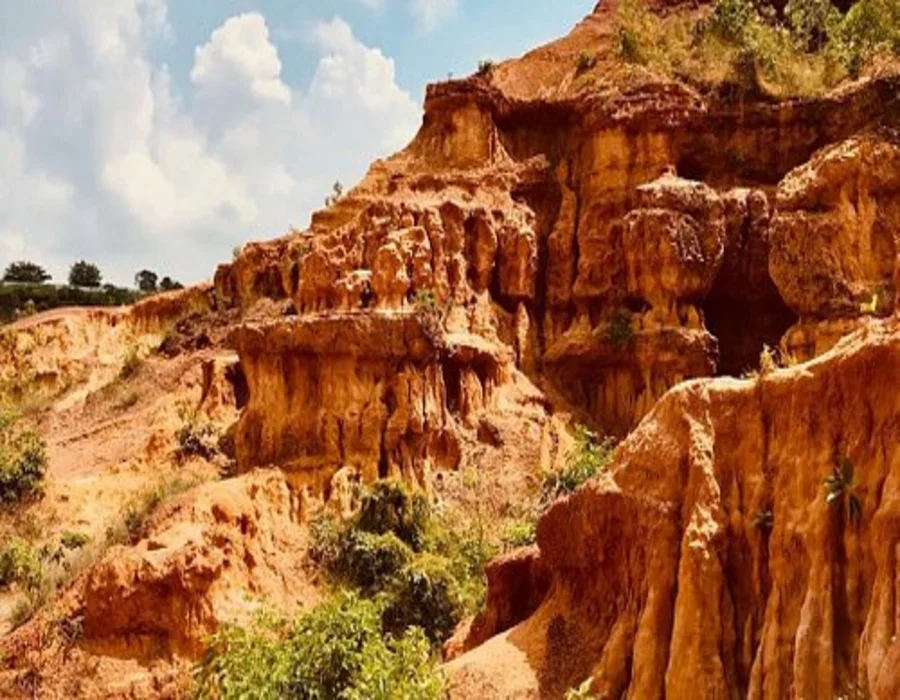 Best time: Ideally, Winters. However, if the heat doesn't bother you, explore your hearts anytime during the year.
How to reach
By train: Reach Garbeta from Santragachi or Kolkata and hire a toto (electric three-wheeler) or cycle vans to reach Gangani.
By road: 133 km away from Kolkata, Gangani can be reached by hiring a cab or driving by self via the NH6-Kolaghat-Chandrakona route.
Activities to do
Hike through the gorge

Visit nearby temples

Visit nearby Amlagora and Bagdoba forests
Muruguma (Purulia)
One of the most untapped and beautiful tribal villages in West Bengal, Muruguma is a silent beauty near the Bengal-Jharkhand borders. The lush green hills, the calm blue lake, and the silent forests blend to create this idyllic beauty. You have numerous activities to keep yourself busy and immerse your soul in the beauty of the rustic and scenic beauty of Bengal. Indeed, a memorable trip and welcoming hospitality ensure that one keeps going back to the place.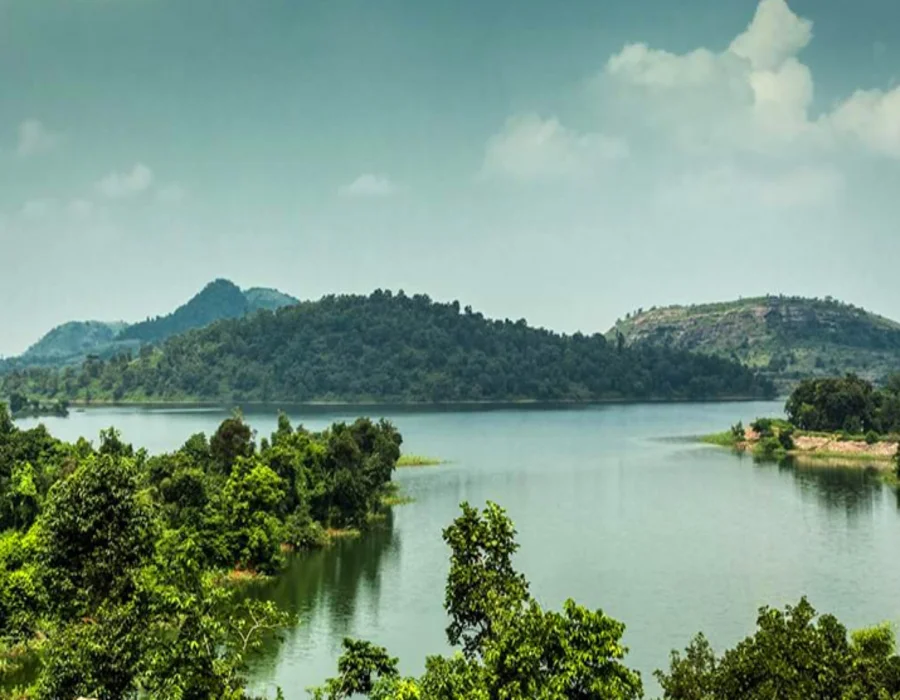 Best time: Ideally Monsoons
How to reach
By train: Reach Purulia from Howrah and hire a cab till Muruguma (approximately 45 km away) or reach Muri (Jharkhand) from Howrah and hire a cab till Muruguma (about 35 km away).
By road: Travel the 340 km stretch via the Kolkata-Bankura-Durgapur-Purulia Road and the Tata Road-Begun Kodor Road to reach Muruguma or board a bus from Kolkata (regular AC buses ply on the route).
Activities to do
Boating

Hiking/ Trekking

Visit the lake and the Dam

Visit nearby Falls (Bamni and Turga)

Watch Chhau dance

Visit mask-making village

Visit Ayodha Hills
Hope you have an enjoyable break!