Bandel is a quite famous place among the tourist for its renowned destination Bandel Church, but there are several other places which have made the place look like a perfect tourist destination. One of them is Lehri Baba Temple.
About Temple
The basis stone for the Lehri Baba temple and Ashram was laid in the year 2003. In 2016 with the entirety of the development work, the primary Basant Utsab turned into a celebration evoking the divine presence of Babaji Maharaj and Lehiri Baba with an oath to serve mankind and unfold the message of affection and brotherhood amongst all.
About Lehiri Baba
Lehiri Mahasaya or Lehiri Baba was born on 30 September 1828. Earlier he was known as Shyama Charan Lahiri. Mahasaya is a Sanskrit, religious identity translated as 'large-minded.' He became additionally popularly called Yogiraj and Kashi Baba. He revived the yogic technology of Kriya Yoga (the relevant religious exercise) and also taught it to his disciples. It was a sequence of internal pranayama practices that fast hastens the religious increase of the practitioner.
He became uncommon amongst Indian holy human beings in that he become a householder marrying, elevating his own circle of relatives, and running as an accountant for the Military Engineering Department of the British Indian government.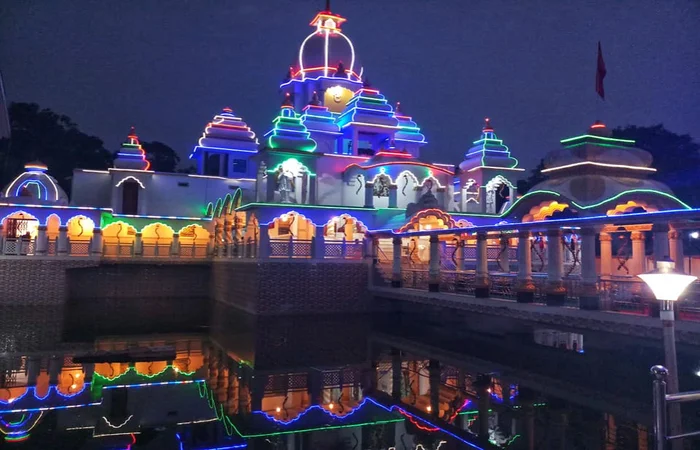 Some unknown facts about the temple
The temple depicts the diversity of various religions. There are idols of Vishnu, Shiva, Durga, Krishna, Kali, Buddha, Jesus, and Mother Mary on the entire premises.
The main temple is located above a lake, constructed on the plan of  'Vastushastra', and the wall of the underground section of the temple is engraved with various hand symbols of different 'asanas'.
There is a beautiful garden in the main compound which consists of beautiful flowers. There is also a fountain with golden fishes on the campus. One can spend a beautiful evening with friends and family in this place.
Timing
10 am to 12 pm and 4 pm to 6 pm daily.
Direction
Take a local train to Bandel station then book a toto or you can book a direct cab to the temple. The temple is situated parallel to GT Road, behind the Arabinda Petrol Pump.
Entry Fee
The entry is free.
Dressing Norms
Women have to cover their hair with dupattas. Short dresses or dresses above the knees are not allowed for men and women.
Bhog
Bhog is available in the temple after 12 pm but doesn't forget to collect your coupon from the counter.
Photography 
You can click the pictures on the premises but photography inside the main temple is strictly prohibited.
I highly recommend this place to everyone. Do visit this place, guys.