India is known for its love for art and culture but how many Indian artists can we name if being asked? When the word art is mentioned, we instantly think about the renowned Western artists who are undoubtedly talented. However, not so surprisingly, India has some of the most talented artists who flamed with passion and creativity.
"Peace is not good for an artist. How can that happen? The mind strives and burns all the time in the creative activity of art."

-Jamini Roy
Although the names are countless, here is a small list of artists who stood out and made a place for themselves in the world of art because of their uniqueness and talent. This list contains artists from the past and present.
Check out the list and let know in the comments if you knew about all of them or found someone new.
Raja Ravi Varma
Raja Ravi Varma is one of the most famous Indian painters who is known for his dreamlike paintings. He was born in Travancore which is situated in Southern India in 1848. His paintings reflected the traditional Indian culture through mythological scenes and characters. His typical subjects included Hindu women and goddesses.
Inspired by Western artists, he also adopted lithographic prints in his works. He mainly painted with oil colours and he was inspired by traditional European iconography but he shaped his unique form by including traditional Indian culture such as Hindu mythology.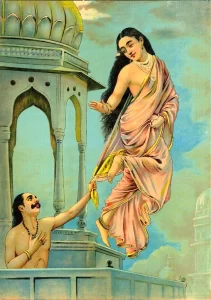 Sawlaram Haldankar
Sawlaram Lakshman Haldankar was a South Indian artist who excelled in the field of realism. Born in 1882, he dedicated his life to art. His paintings look like exact replicas of photographs as he used realistic proportions along with a perfect blend of colours.
His paintings look like candid photographs of everyday life as he captured moods and realistic scenes from everyday life. Despite realistic details, his subjects explored the modern culture of India.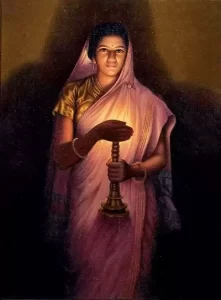 Jamini Roy
Born in 1887 in a village called Beliatore in West Bengal, Jamini Roy became one of the most prominent figures of Indian art because of his distinct artistic style. He embraced Bengal's folklores and mythological tales along with the simplicity of the people living in the villages and beautifully highlighted them.
The most prominent feature of his paintings is the way he drew the eyes of every single character. The long, big, and kohl-rimmed eyes and opaque clean colour blocks using tempera colours provide the exceptionality to his paintings. Being a contemporary of Pablo Picasso, he is surely one of the painters who are remarkable for highlighting Indian and Bengali culture through art.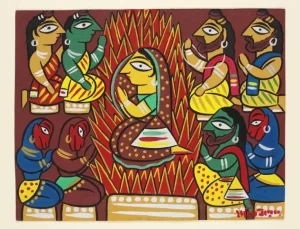 Sunayani Devi
A daughter of the renowned Tagore family, Sunayani Devi was a self-taught artist who blended folk art with modernism. She was an ardent follower of Jamini Roy her works reflected that influence. She was born in 1875 in Calcutta.
She was one of the very first female water-colour artists who explored modernism while choosing Indian folklores as her subjects. Her artworks reflected contemporary style with traditional roots.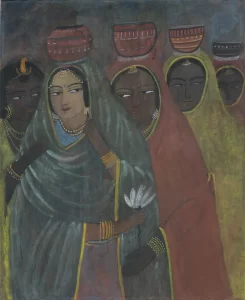 Nandalal Bose
Another Bengali painter who earned his permanent position in Indian art history is Nandalal Bose. He was born in Kharagpur West Bengal and later became the principal of Kala Bhaban in Shantiniketan in 1922.
He was known for his "Indian Style" of painting in which he portrayed the Indian lifestyle and people through Western techniques. He made the Indian audience familiar with modernism. He was an ardent pupil of Abanindranath Tagore, another prodigy of Bengal. He received Padma Vibhushan in 1954 for his contribution to Indian art.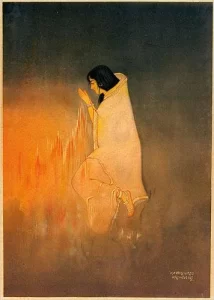 M. F. Husain
Maqbool Fida Husain was born in Maharashtra in 1905 and he became one of the most well-known faces of Indian art because of his touch on cubism. He introduced and explored cubism which was originated by Pablo Picasso and made it famous in India.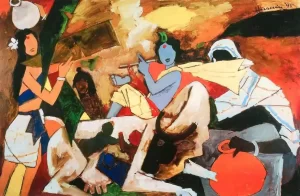 Amrita Sher-Gil
Amrita Sher-Gil is a British-Indian descendant born in Budapest in 1913 and she became one of the very few Indian women artists who received equal recognition as her male contemporaries. Sher-Gil lived in Shimla in India since 1921 and although she started under Western influence, soon she started her quest to explore Indian art.
Sher-Gil roamed around the academic realism genre along with impressionism and she mainly captured moods, and Indian rituals and even created many self-portraits. She was parallel to the Mexican-American painter Frida Kahlo and I personally find their style similar in many ways.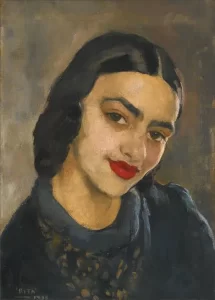 Bijay Biswaal
Bijay Biswaal (1946-present)  is a Nagpur-based artist who has gained popularity due to his use of vibrant colours and captivating scenarios. Biswaal has the capability of making his paintings look washed out yet prominent at the same time.
His artworks tend to have a balance between cool and warm hues and he often uses one single tone overwhelmingly in his pieces giving them a dream-like appearance. Even though he uses mostly acrylic, his artworks look like watercolour paintings. His paintings look straight out of a dream despite being realistic scenarios.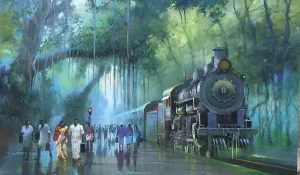 Mona Biswarupa Mohanty
She is one of the most renowned Indian contemporary artists of the 21st century who mainly deals with subjects related to Indian folk and mythology. She mainly paints women and portraits. This Odisha-based artist has started the movement called "monnerism" which showcases her distinct style of art where she blends women as a part of nature.
'I see nature as a woman, I also see nature within a woman'

-Mona Biswarupa Mohanty
Most of her paintings feature women with fully or half-closed eyes, unibrow, a proper outline of nose and chin with a serene smile on their faces. Apart from that, flowers in their hair are another distinct characteristic of her art. She is also known for adding pieces of traditional Indian jewelry to her subjects.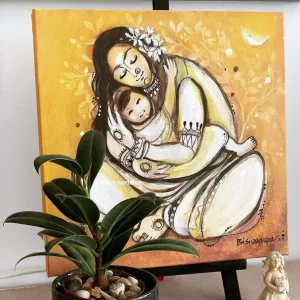 These are only a very few of many brilliant and talented artists who made India proud!
Let us know whom you found the most intriguing and whom you'd like to add to the list!
Cover image: "Bride's Toilet" (1937) by Amrita Sher-Gil