In Hindu religion, this is believed that rangoli attracts Hindu deities at the home. This small decorative piece attracts wealth and prosperity and that is why this is considered as an auspicious symbol. Rangoli means "the rows of the colors". This is mainly made with thumb and forefingers.
"Rangoli is like a life!! All you have to do is connect the right dots to make them perfect"
History behind Rangoli:
In Hindu mythology, this is said that Lopamudra started making Rangoli to help her husband, Augustya Rishi in worshipping the gods. Rangoli in Hindu mythology is known as Yagyakunda. Rangoli colors symbolize the sky, wind, earth and fire because she asked Panchatatva to provide her the colors. This is the whole significance of the rangoli colors.
What do you think that rangoli is the modern creations? No, it is absolutely not. Rangoli was first found amongst the African tribes in Amazon jungle. The simple story behind this was this pattern used to be made to attract the wild animals. Once, the animals came into the maze, they were easily killed. Rangoli was one of their hunting strategies.
Even in the ancient times, Rangoli was made to chant the hymns. Women used to create this pattern to bring positive energy in the home. Today, Rangoli is made in Diwali and other Hindu occasions only for that reason to bring positivity in the home.
Rangoli Colors:
Rangoli colors have the different meanings. Rangoli colors are made from lentils, flower petals, and ground rice. Blue color denotes the sky and green symbolizes the sea. These colors used in the rangoli to unveil different mythological stories. Rangolis are widely made in India at the time of Diwali. But this is seen that many elderly women in India make such designs at their homes early in the morning to please gods and goddesses.
Rangoli Designs:
Now, coming to the design part, Rangoli design requires attention, patience, and perseverance to make it. This is often said that rangoli rows are very crucial to follow through because it needs subtle attention to be paid while making the design. If you have the busy schedule, it is more likely that you want to avoid the Rangoli part in your house celebration. But here's a solution for you, if you want to make a rangoli even in your fast paced life. Below, I have brought five easy rangoli designs which could only take 25 to 30 minutes of your time; to know more, keep reading this blog.
Chowk Rangoli
Chowk rangoli is the easiest and oldest designs still made by the elder women in India. This design is mostly done in the pujas like Chhath and Satyanaryan Katha. This rangoli powder can be done easily with the home ingredients like wheat, turmeric, and vermillion. This is said that such design attracts gods and goddesses.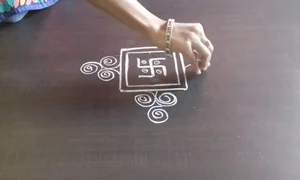 Flower Petals:
With flower petals, the easy design can be made. To make a simple design, one can draw the simple circle with a chalk and can fill it with flower petals. The flower petals of marigold, roses, and lotuses are mostly used in the front door. This modern form of rangoli is very attractive.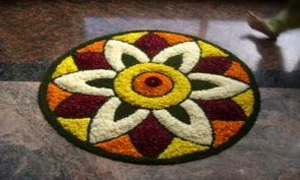 Alpana:
Alpana is the liquid paste of the rice and often, cow dung is mixed in the paste to make it thick and slurry. Artists can give it any look by mixing the turmeric powder and the acrylic color to make it splendid in design. This type of rangoli is predominantly seen at the time of Durga puja and Laxmi puja in Bengal. The designs are mostly made by three fingers.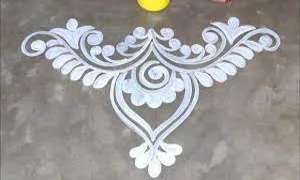 Urli or Floating Rangoli:
Urli bowl is a famous name in Hindu religion. In almost every temple, such Urli bowl is seen decorated with diyas and flowers. Now, such Urli bowl is used to decorate the house in any occasion. This is the easiest form of decoration which would only five to ten minutes to do the entire decoration and give the house an occasion worthy look.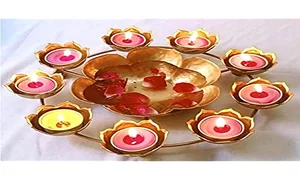 Fruit Rangoli:
In Hindu religion, people offer sweets and fruits to the gods and goddesses. Often, this is served in the normal plates. If an individual wants to show some artistry there, they can make the fruit rangoli. Fruit rangoli is basically like the flower petals one where one needs to put the fruits in order so that it looks eye-pleasing.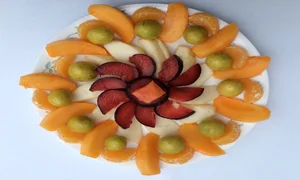 There are other rangoli designs which are prevalent in the different parts of the India. But the primary reason of the rangoli design is to make your home vibrant with colors.
If you want to design any of the above Rangoli designs at any occasion in your home, you can also buy the rangoli kit available in Flipkart and Amazon. This will make your journey way easier if you opt for the rangoli stencils.