Scorching heat of the sun.
Loss of Appetite.
Craving for Cold Drinks.
Tiredness throughout the Day.
Oh yes! We are back to summer again.
Summer once was related with mangoes and a sweet breeze under the shade of a huge banyan tree but these are irrelevant now. With the advent of time and the steady increase in the global warming effect, temperatures have gone up to unexpectable degrees. The heat wave and the sun rays have become so unbearable that the shade of a tree is not enough to provide solace anymore in the summers. Well, then what to do to calm down and avoid the heat?
Two days ago, I overheard a bunch of college students in a local bus planning a trip to get rid of the summertime tiredness and I could immediately feel the need.
So, I would like to suggest to all of you to go on a vacation to a seaside or a hill station this summer and let your senses relax not only with the view but also with a glass of wine in hand.
Vacation helps to rejuvenate but that is commonly known by all. Another thing that makes your trip relaxing, memorable and lets you to indulge in the pleasure of the moment is alcohol. Remember, you need to be an adult to enjoy this moment with a wine in hand. If you have still not crossed that boundary of age then my dear friend you are still far away from the unbearable load of adult life and coolers will be enough for you to pass the heat.
Intoxicating Alcoholic Cocktails to Taste on your next Vacation:
Cherry Ripe Martini

This is the most easily available drink and is comparatively cheaper for a person who wants to get that intoxicating feeling quickly. It is also best for the summer season as it helps you to cool down. It is made of coconut milk, cherry brandy, vodka, crème de cacao and ice mixed altogether into a creamy cocktail. Just imagine, sitting in a shack with a Cherry Ripe Martini in hand listening to the seas waves crashing on the shore and feeling the wind in the hair.
Gin-a Colada Slushy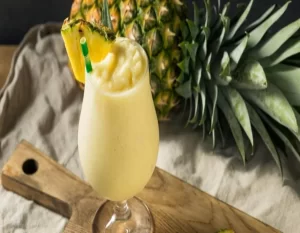 When you are on a vacation and planning to chill, you must taste any of the finest cocktails that are available across the country. If you are still confused, you can go for Gin-a colada Slushy. These easy mixing cocktails will take you to a new experience through the mountains that you are looking outside your hotel room. Some drinkers like their drink smooth and crisp and for them this combination of gin, pineapple, coconut cream, lime juice, lime zest and ice cubes is just the code that can change their experience of drinking forever.
Mojito Jello Shots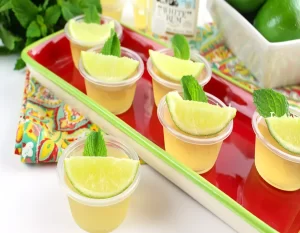 Beat the summer heat with this tropical treat to perfect your vacation. This cocktail is a heavenly combination of rum, lime cordial, soda, gelatin, sugar and water. It is usually set in the fridge in 60 ml shot glasses and has the power to take you on a tropical taste ride.
Pink Gin Fizz Cocktail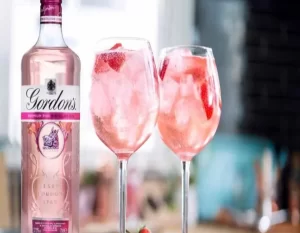 Not just to beat the heat, people go on vacations to celebrate bachelor's party or birthday party too. If you are high drinker desiring to let go of everything and feel the swing, then Pink gin fizz Cocktail is your thing. With the perfect combination of gin, raspberries, mint, lime juice, lime zest, pink lemonade and ice, this cocktail has the power to make you groove. Be it the mountains or the forest, just plunge into your glass of cocktail and feel rejuvenated.
Passion Star Martini
Are you fond of those drinks that are mixed with different fruit flavors? Well, you are surely a vodka person then. Try Passion Fruit Martini and turn your party at the poolside into a happening ride. It is made by mixing passion fruit pulp, vodka, liqueur, lime juice, sugar syrup and ice in a cocktail shaker. Trust me; you are going to love the taste and the feeling to the core. By the way, did you know that this cocktail is named after a pornstar, Martini, who had a controversial career?
Vineyards to go on Vacation and Try Wines: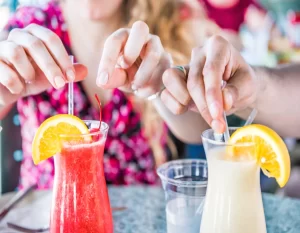 Sula Vineyards
Four Seasons Vineyards
Chateau D'ori
Grover Vineyards
York Winery
Wait wait wait! Are you a completely non-alcoholic person and still want to accompany your friends or acquaintances to their drinking session? Here I have a solution for you too. You can try any of these non alcoholic drinks and be a part of the celebration.
Non Alcoholic Drinks to Choose From:
Ginger Beer
Fruit Coolers
Iced Tea
Bailey's Thick Shake
So, stop whining about the heat this summer and get ready for a vacation. Oh hold on! Not just a vacation but one in which you will taste the best of the drinks to make the experience long lasting and refreshing.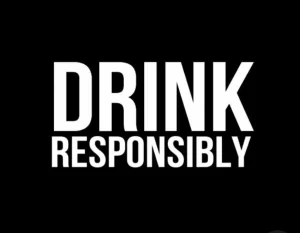 On a cautionary note you must be aware of the fact that too much of drinking is injurious to health and you must not drink at all when you are driving. Being careful will make your vacation and drinking tension free.
No more of imagining now. Move on to tick the list and get hold of the best intoxicating drinks before the trip.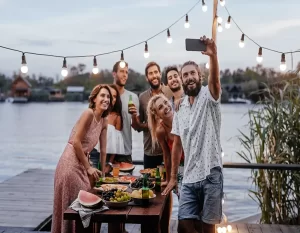 Happy Drinking 🙂