When you are happy, and you know or sad and not ready to show, indulge in these easy dessert recipes to do the trick. Check these yummy recipes that require no baking skills.
Who doesn't enjoy desserts? Indulging in your favourite brownies or taking a bite of that yummy pastry, or eating ice cream out of the tub on a gloomy day, desserts are what make anyone happy. Want to know the secret to happiness? Simple and easy dessert recipes that bring instant joy.
Whether it's celebrating happiness or making sadness go away, we all shout DESSERTSSSS! And you don't need to be a baker to make these desserts.
Yes, not all of us are dessert professionals, but we have every right to indulge in these beauties.
Enjoying desserts without putting in too much effort is entirely possible. All you need are readily available ingredients, and ta-dah, your yummy dessert is ready within minutes and with the simplest of effort put.
Embrace the joy of relishing a satisfying dessert without the need for intricate baking skills. Let the simplicity of these delightful treats inspire you to indulge in the small pleasures of life, reminding you that creating and enjoying desserts can be an effortless and gratifying experience. Treat yourself to these quick and easy dessert recipe options, and relish the sweet moments they bring, allowing yourself to unwind and enjoy the simple pleasures of a delicious and hassle-free treat.
These recipes require minimal effort and are sure to satisfy your sweet tooth without the need for extensive work or even ingredients: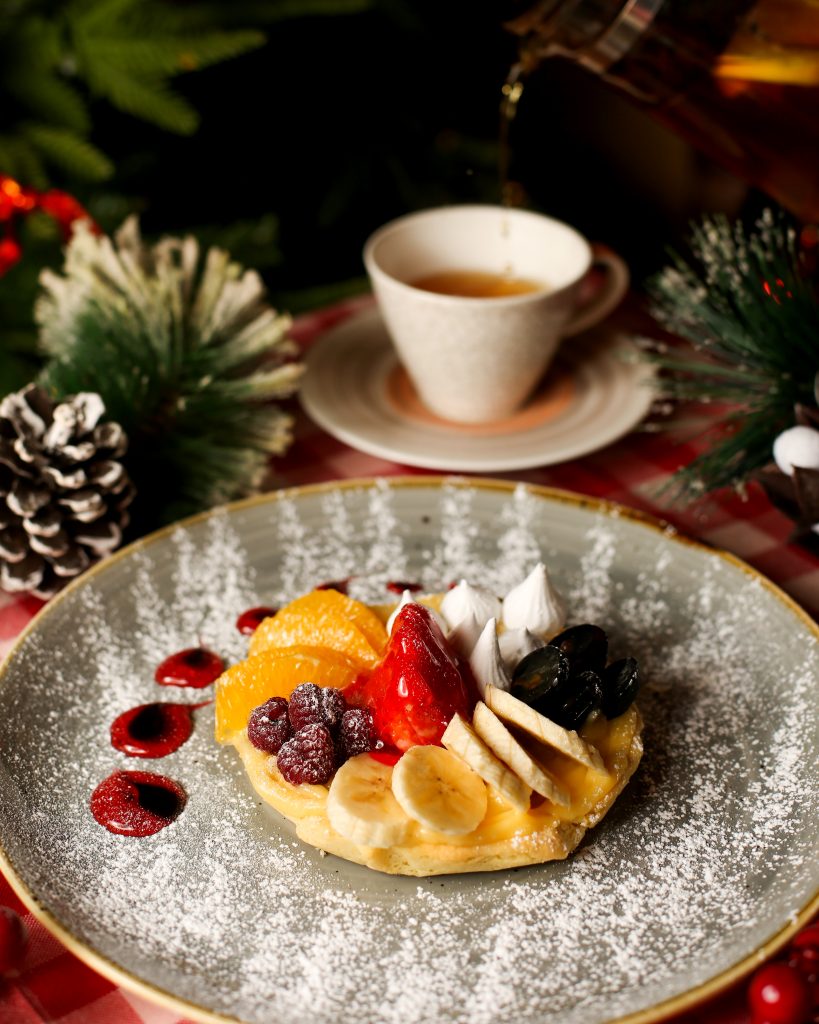 Easy Dessert Recipe for Chocolate Dipped Fruit
Melt some chocolate in the microwave
Dip your favourite fruit (apples, strawberries, or bananas) in the melted chocolate.
Let them cool on a parchment-lined tray.
All those of you who do not like fruits, this is your golden chance to start falling in love. Of course, you can melt on a pan, too, alternatively.
Yes, this easy dessert recipe is that simple and quick to make.
Easy Dessert Recipe for Fruit Parfait
As fancy as the name sounds, preparing this no-drama dessert is super easy. All you need to do is:
Layer yogurt with granola.
Add fresh fruits such as berries, bananas, and mangoes in a glass.
Repeat the layers as many times as you wish.
Top it off with a drizzle of honey or maple syrup.
You can also go classic with chocolate syrup if you don't like honey or maple syrup. And bam! Your yummy and easy dessert recipe is ready.
Easy Dessert Recipe for Microwave Mug Cakes
Combine flour, sugar, cocoa powder, baking powder, milk, and oil in a mug
(Yes, I know I promised you no drama, but go check in the kitchen. There is every possibility that you already have all these ingredients lying in your kitchen).
Microwave for a couple of minutes, depending on the size of the mug, for an instant and satisfying cake.
Generally, 2-3 minutes is enough for the cake to be prepared thoroughly. Check with a toothpick for a dry sweep. If there is no stickiness, your mug cake is ready. And if it isn't, microwave for 30 secs more. Remember, too many minutes would harden your easy dessert recipe cake and spoil it.
Alternatively, you can prepare it in a pressure cooker if you do not have a micro-oven. Just cover the lid (no pressure/whistle is needed) for 10-15 mins.
Easy Dessert Recipe for Chocolate Bark
No, you don't have to put chocolate on tree bark! To prepare this dessert, all you need to do is:
Melt chocolate.
Spread it on a baking sheet.
Add toppings like nuts, dried fruits, or candies of your choice.
Let it cool and harden in the refrigerator before breaking it into pieces.
Please note that the better your chocolate melts, the more perfect the taste will be when it cools down and is blended with your favourite toppings. For this easy dessert recipe, you can choose the double boiler method to melt the chocolate. Check this video to know how.
Easy Dessert Recipe for No-Bake Cheesecake
Yes, it is possible to prepare that dreamy cheesecake without the hassles of baking.
Mix softened cream cheese with sugar.
Add vanilla extract.
Then fold in some whipped cream.
Pour the mixture into a pre-made graham cracker crust and refrigerate until firm. And voila! Your delicious, easy dessert recipe is ready and how.
Both cream cheese and whipped cream are readily available online or in stores, so whether it's a last-minute craving or a pre-planned surprise for your partner, this dessert will surely win hearts, and no one needs to know how easy it was!
Sometimes, the simplicity of creating sweet treats can be just as satisfying as indulging in them. It's all about savouring the little moments and treating yourself to the joy of a delicious dessert without the stress of complex baking procedures. Embrace the ease of these effortless, easy dessert recipes and relish the joy of treating yourself, your family, and your friends.
Read this blog to find out about 7 easy breakfast options that are tasty and healthy.