The sunset on the beautiful river a little while ago and the ambience filled in with a sense of nostalgia and charm, urging me to drench in the feeling of calmness that the picturesque setting had weaved out for me.
---
Prepping up on the feels
Just a few days back, my friends and I were discussing how badly we needed to get away from the city, even if for a day, and take a break. Take a break! This has become the primary agenda for most of us who have been toiling not only a busy work schedule but a crazy depressing reality disrupted by Covid-19 and everything else.
Deciding to come to Taki, West Bengal, was a hurried last-minute "almost not happening" plan, which began with misadventures but shaped into a perfect escapade that we had been looking for so long.
Not only is the place an ideal spot for a quick weekend trip or last-minute weekend trips, or even a one-day trip, but also, it is a favourable option for escaping the chaos and the hassles of the city and its never-ending activities.
Located on the river banks of Ichhamati, and nestled between the Indian and the Bangladesh border, the scenic town of Taki, is a treat for all nature lovers and travel enthusiasts.
The journey unfolds
Traveling to Taki from Kolkata isn't much of a trouble, whether by road or train, but to avoid complications as our plans were disrupted multiple times prior to taking the actual journey, we had booked a car for a more controlled journey.
It is approximately 70 km away from Kolkata, and on such typical winter mornings, rain or not, the journey itself is so relaxing that most of the tiredness is washed away with laughter and excitement.
Despite the rain, which was at times gloomy and at times relaxing, we had a memorable time traveling and envisioning the relaxation that we were dying to get hold of.
The road to Taki includes quite a few scenic stops, mostly dilapidated mansions, and forests, but because of the heavy rain that had decided to conspire against us, we couldn't check any of them.
However, we did explore the Golpata forest area, as the rains could not dampen our enthusiasm to explore the greenery.
Thankfully, the rains also had reduced to a drizzle by the time we had reached the place.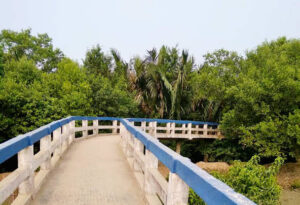 Anyone planning to explore the forest must remember that they need to carry their id proof for entering the forest area as it is protected by the Border Security Forces (BSF). Also, since cars aren't allowed at the entry point or inside the forest, one needs to take the public transport available there or walk until the entry point. Once inside, the entire route is a treat to the eyes with dense greenery and mangroves, creating a fairytale-like ambience.
By the time we reached our hotel, we were fully charged up with a kind of energy that we had been craving for so long. The weather had also cleared, and we were all set to soak in the winter sun, the enchanting river trail, and the lovely hospitality of the hotel staff where we were staying for the night.
Followed by a sumptuous lunch, we had decided to take the boat ride by early evening so that we could cover as much as possible.
The ride was magical and soothing.
Lying on the back and watching the beautiful sky above, with the sound of the waves hitting the boat, it felt like all our worries had drowned so deep that life had become magical. There was no blaring of horns and shouts of people. There was calmness and ease.
Far away from the maddening crowd
It was a silence I had been craving for a long time. It was a silence that I needed to reassure myself that everything was okay and that everything would be okay.
I was finally relaxing.
We rode on the boat till the sun had set and left behind an ambience filled with tranquility. The scenery was straight out of some romantic novel. It felt like this would go on and on, and we would be drenched in this melancholy, moving towards hope and peace.
Sadly, we had to return as it was getting darker, and the clouds far away were teaming up again with thunder and lightning.
Looking at our enthusiasm and maddening spirit, the staff and the locals had arranged for us a night of song and merry-making at the resort.
The bonfire kept us warm, and the songs lifted our spirits higher. We sang and danced together. The old Bengali songs and stories of the past kept us hooked, and we lost track of time.
Other families had joined us by then, and that night it felt like we were no longer strangers.
A much-needed boost
Our mismatched work-family schedule had allowed us only one night at Taki, but for anyone hoping for a break, Taki can do its magic in a single day quite efficiently.
I would urge you all to take that break.
Go anywhere you want, with whoever you wish to, but step out. Sometimes all we need is one night straight out of the fairy tale to set our lives right and fill us with enthusiasm.
In fact, right now, as we return from our quick one-day trip, we are all cuddled up together and planning our next adventure. And as always, I promise to share with you my story, with the hope of connecting with your story!