"WE, THE PEOPLE OF INDIA, having solemnly resolved to constitute India into a SOVEREIGN SOCIALIST SECULAR DEMOCRATIC REPUBLIC and to secure to all its citizens"
Getting back my thoughts together
It has been a few days that I haven't sat down to pen my thoughts, and the reason has not been intentional. I have been going through a whirlwind of feelings with the pandemic torture being on the rise, the air a tad little gloomy because of the issues at the personal end, and the overflowing work pressure with numerous deadlines to meet.
As a result, writing, something that gives me a positive kick, took the backseat!
Today morning, however, was different. I woke up with a sense of positivity and a feeling of freshness. I am not sure whether it was the result of a good night's sleep or the fact that numerous festivities are lined up for the near future, nevertheless the feeling today was compelling.
In fact, I began my day today with writing. I was writing for myself.
As soon as I opened the diary and touched the pen, the words started gushing and took the form of numerous thoughts and ideas that generally shaped my goals and bucket list.
However, my sister abruptly ended my reverie when she came in screaming that she had to submit a school project on the 73rd Republic Day. Just as she had come in like the wind, with a similar velocity, she stormed out too, grabbing my pens, markers, and glitters along the way.
Indeed.
Our 73rd Republic Day is just around the corner, and undoubtedly the country is getting ready to celebrate in full vigour. Beginning with hoisting the flag and cultural events to commemorate the stalwarts who helped India become a republic, the day will be marked by numerous events in every part of the country. You must be preparing for the day as well with different events planned at your office or neighbourhood. Soon the roads and alleys would be decked up with the tricolours, and the air will be filled with immense gratitude and joy.
The pride in all of our hearts will glow brighter, and the respect for the nation and our national flag will once again mark the feeling of the day.
This got me thinking.
73 years! We have completed 73 years as a sovereign republic, along with marking so many years since our Constitution was drafted in 1950. Our Constitution signifies how the citizens and the nation as a whole must behave and highlights the fundamental rights and duties we must abide by. These were drafted so that we remain equal as citizens and in terms of the privileges we are entitled to.
I am sure you all are aware of your rights and how the lawmakers must act to ensure them. You must have raised your voices as well to ensure no wrong is done to an innocent or no one is made a victim of partiality or bias.
Yes, we all want to believe we are equal and have equal rights and entitlements.
But how many of us owed our mistakes when we knew in our hearts, we were wrong? How many of us realized our mistakes and attempted to correct our wrongdoing when we defied the law or took advantage of our position or privileges? When was the last time you acknowledged your mistake for not upholding our Constitution- the very words that signify our living and morality?
If your answer to the last question is that you uphold our Constitution every day, then you have my standing salute.
To be honest, I have myself been at the receiving end of guilt because of breaking laws or being someone who was not impartial. At the moment when such things happen, it feels silly or completely insignificant, but now that I am sitting down and reflecting about our Republic Day, I feel like my nation owes me more than just standing up when the national anthem is played or giving someone a mouthful if anyone says anything wrong about my country!
The different colours of Republic
Well, I had started writing yesterday, but all those thoughts got me so occupied that I was utterly lost in the transition between thought to action. In fact, I would have ended my blog right there had it not been for an interesting incident that coincidently happened yesterday night.
After a long tussle with how I should behave to be more worthy of my nation and what things I had taken for granted for so long. I decided to put my pen down and go for a walk in the park.
It was pretty late, and since it was a typical winter evening, not many people were around. My earphones played some of my favourite tracks and I was humming along, walking at an average pace, and covering the park in circles. I had completed about three rounds- it isn't a huge park- when I heard a few people quarrelling at a distance. Like most of you, I, too, didn't bother at first and continued to take my stroll.
But the quarrelling was too loud and had turned into a very abusive exchange of choicest words after some time!
At this point, I had two options- either go back home (as the mood for the walk had been lost) or inspect what the issue was about.
Inspired by the patriotic flicker which had been illuminated some hours back and my general habit of poking my nose where I shouldn't most of the time, I decided to inspect!
The nearer I reached, the stronger I felt not to proceed, but the stubborn I was, I stood at an audible but "safe from direct verbal abuse" distance and started to understand what the issue was about. By then, some more people had heard the commotion and gathered around; all of us trying to make any sense possible. It was mostly dark and except the five people who were into the intense argument, the rest of us looked like a big black lump.
After decoding the few key points and tying them around, we-the big black lump- concluded that the two comparatively older ladies were screaming and abusing the three young girls for smoking in public. In elaborate details, the young girls were told about how girls, in general, should behave and why it is inappropriate for them to wear such "skinny" dresses and roam around "behaving like spoiled brats."
Interestingly there wasn't any lecture about why smoking could be harmful or how smoking affects irrespective of gender and clothes.
Anyway, this scene could be anywhere in India and could have happened in front of anyone of you. I am sure it must have occurred numerous times. Older people lecturing about behaviour to younger people. Younger people lecturing their elders about not interfering. Girls and women getting lectured. Boys and men getting lectured.
Each of us has a great deal to lecture about!
But this got me thinking again.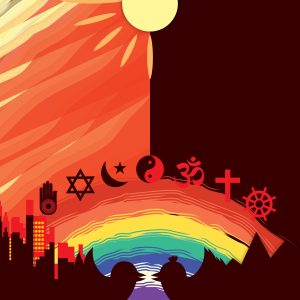 Many faces. One identity
We gained our freedom by every right and by the virtue of our leaders. We drafted our Constitution and became a nation many others look up to. We have model structures of systems and technologies by which we run one of the most promising country and are aiming for top-class progress and success.
And yet, we like to control one another. We want to believe that we have some special right by virtue of which everyone else is supposed to believe in us and follow as we say.
We are a sovereign republic, but we are yet to consider each of us a free citizen of the democracy, with the equal amount of fundamental rights and the free choice of living life their way.
I do not want to debate whether or not smoking is correct or how one should dress. I shall leave that to your imagination and critical discussions.
But what I would like to encourage is thought for how much we are upholding our Constitution.
---
Our Constitution was drafted to guide us, and this makes us double responsible towards it. Not only should we protect it and uphold it, but also practice what the Constitution has been preaching to us. Our forefathers showed us the path to walk upon in order to be righteous but to actually walk, we must come out of inhibitions and misconceptions, and practice what is ideal.
Our Preamble reminds us that we are a Sovereign Socialist Secular Democratic Republic. We are supposed to uphold the values of Justice, Liberty, Equality, and Fraternity. These are not just things that others should ensure towards us but also practices that we must ensure towards others as well. I am sure each one of you know the meaning and significance of these terms and how we must practice them. So, I will definitely not lecture you about them.
However, I would like to ask you whether or not you believe that all of us have the right to live freely with the choices we make for ourselves. As citizens, it is our duty to live with one another in a socialist way, which means that we respect our social diversity and live in harmony as social beings.
As long as you are not a criminal or someone who manipulates or someone into habits that harm others, I am completely open to respecting you and your choices.
And coming back to the 73rd Republic Day, a quick Google check revealed that the theme for this year is "India@75".
Like every year, this year too shall witness the gala Republic Day parade in New Delhi, the national capital, where our beautiful national flag will be unfurled and hoisted atop, reflecting the shining pride that we hold in our hearts for India and its achievements. The parade shall be showcased at the Rajpath in front of our President and other dignitaries, officiating the ceremony.
Our Indian Army, the Indian Navy, and the Indian Air Force have always performed spectacularly at the Republic Day parade. They uphold the nation\'s glory and remind us of the endless and selfless contribution they make to ensure that the country and its people stay safe and united. Most of my childhood memories are associated with their displays on the ground or above in the air, perfectly synced in unison every time.
The different states and union territories too showcase their tableaux decked up as per the theme of the year. They contribute towards enhancing the theme through significance tied to the individual states and territories as well as the nation as a whole.
Just as it unfolds every year, this year too will be marked by the successful celebration of our unity in diversity and the fact that we are one India together despite our differences. It will reflect through its theme the dreams the nation has and the actions the nation has been taking to fulfil them.
---
Right now, as I look around, my younger siblings and cousins are busy with their Republic Day projects and craftworks. Some of my friends are busy with the Republic Day functions at their workplaces and schools. My neighbourhood is also decking up with its preparation set for a mini parade and showcase of talents. Even I would be getting engaged in some time to prepare for the cultural event at my office.
---
Leaving you all with a final thought
Isn't it amazing how we all come together to celebrate our nation, our India, and leave no stones unturned to ensure that it is as special as the nation itself?
I am a very proud Indian, and I feel pride in being someone who not only strives to be a worthy Indian but also someone who practices unity in diversity.
I believe in Justice, Liberty, Equality, and Fraternity. I believe in India and celebrate its diversity rather than discriminate against them. I believe that our 73rd Republic Day isn't just another day but rather a testimony to the fact that we respect and uphold the fundamentals on which our nation was built.
Do you?