To be honest, I have stopped making new year resolutions a few years back, as I realized, more assertive with every passing year, that I am a "resolution failure"!
So, this year, page 1 of 365, to be precise, was no different either, and surprisingly I don't even feel guilty anymore.
However, I do have something in mind, and it's more like something that has been in my subconscious probably for many years. I want to be new too! It isn't like I am planning to get a makeover or something, but I want to feel like I am new and fresh, bursting with more confidence and positivity.
I am hoping for a Happy New Me!
And yes, Happy New Year, people.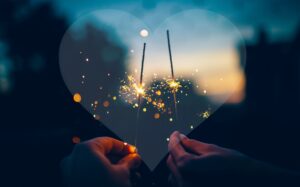 One tick at a time
December end and January beginning is always a special time for my family and me, as there are a number of occasions that we celebrate, and combined with the new year spirit, it's probably the happiest phase of the year. The festive grandeour and happiness quotient was high this year as well, but I felt like it had been quite a long since I was new! Of course, there were many more "firsts" that I had accomplished in the last few years and been doing well both personally and professionally, but yet there was something.
I don't have a better word than "new" to describe the change that I want within me. It could be learning something new or starting something new, but I am not worried about that. I haven't burdened myself with targets yet, but all I know is that when page 364 comes, and I sit down to contemplate, I want to be proud of myself.
As a step, however, I have created a bucket list for 2022 that I look forward to accomplishing and happily tick off!
A 'new' Perspective 
As you have already read that instead of resolutions, I have decided to call it my bucket list, and that itself has given me more enthusiasm and zeal than the pressure that the word "resolution" would have made. I guess it's always the perspective that matters, and this is something that I apply in every tenet of my life.
In fact, this is something that I have learned in the last two years, the "covid years," if you may say so. With so much panic and fear, I too was someone who was always anxious and paranoid about the negativity and the outcomes, but as time passed, I understood that if I changed my perspective of looking at things, not only would I be saner, but also find the silver lining closer. Yes, the times are tough, and there is a lot at stake, but fretting over it would not make anything better, which is why I have chosen to look at the good signs and not let stress pin me down.
This change process within me has been building up for a while, and I guess 2021 made me more optimistic, eventually creating a version of me, ready to look at 2022 with hope and some concrete action. Instead of just thinking about how I could have made a difference and when life would be covid-free again, the cynical me has made way for a "do something for real; just anything girl," ready to take on 2022! I am not just going to sit and read about stories of others, but instead, create my own stories of achievements and inspiration, more importantly memories of a more accomplished 2022 and being new.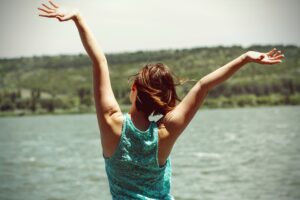 Time will still be flying by
Yes, before we know, a week, and then a month, and then a few months, and then bam! the year would be over. This is always how every year works, and I am not expecting anything different from 2022, which is why I am expecting myself to pick up pace instead of waiting for the year to slow down.
With a change of tactics, a little self-motivation, and dumping away the hopelessness and self-loathing, I am ready to utilize the 365 days more colourfully and happily.
This year, my focus would be on being truly happy, which means I would be doing things that would make me happy, in turn making me more optimistic and flying along with the year.
I am also going to make it the year of colour! In fact, my theme for the year is colours, so my actions, words, gestures, thoughts, and most importantly, 'I' would signify brightness, cheerfulness, and positivity.
I am looking forward to a colouful, optimistic, and healthier 2022!
Ah yes, I am a little overwhelmed, if you may say so. Also, I am someone who prays for one and all, so whether I know you or not, I would ask for your well-being and health. And this brings me to my thoughts and prayers for you all.
What better than the beginning of a beautiful year to pray that 2022 is better, happier, healthier, safer, and more loving for all. The last few years have been trying, and I pray that you all be stronger in your outlook and capacity to carry on.
I know it has been stressful and challenging for you to manage so much and yet keep that smile intact.
May this year be filled with little joys and reasons to smile for you. May you relax a little more.
May 2022 be sweeter and colourful for all!